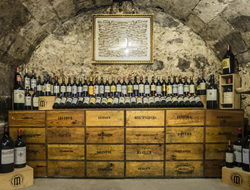 We greatly enjoyed working with the owner to sell his well-regarded and unique business," said Irina Comer, founder of Comer Business Brokers. She added: "This sale exemplifies our core mission – to help business owners Sell Well.
GLASTONBURY, Conn. (PRWEB) November 29, 2017
Charles Fine Wine, a Glastonbury, CT purveyor of hard-to-find and sought-after wines, today announced that Tony Rousseau and Cheryl Carboneau have acquired substantially all of the assets of the company from its founder, Charles Bissell and other owners. Terms of the transaction were not disclosed.
Founded in 1988, Charles Fine Wine specializes in discovering wines that are not commonly known or advertised but which offer exceptional quality for their price. Its wines are difficult to find in other locations. The store offers wines from around the world.
"As a wine lover's wine store, Charles Fine Wine has been committed for almost 30 years to exciting the palates of its customers," said Charles Bissell, founder and one of the owners of Charles Fine Wine. "We pride ourselves on our curated selection of exceptionally valued wines and our responsiveness to our customers' tastes, and we are pleased to be selling to equally dedicated people in Tony and Cheryl."
Mr. Bissell added: "It was a great experience working with Irina at Comer Business Brokers. She ensured an efficient and professional experience all around, and took much of the stress out of selling my business."
"Charles Fine Wine is a trusted name for oenophiles in Glastonbury. Charles has built an excellent business by combining exceptional wine sourcing with outstanding customer service," said Tony Rousseau, a package store professional for two decades. "Cheryl and I are looking forward to building off of Charles' strong base to continue to grow and expand the business under its new moniker, the Best Wine Shop in Town."
Mr. Rousseau added: "We really appreciated Irina's contribution to the sale process. She has a strong knowledge of the market and a ready command of the intricacies of the business sale process."
"Charles built a highly respected establishment in Glastonbury, and I have absolute confidence in Tony's and Cheryl's ability to really take it to the next level. It is greatly rewarding to be able to connect aspiring entrepreneurs like Tony and Cheryl with successful businesses like Charles'," said Irina Comer, founder of Comer Business Brokers, which brokered the transaction for Mr. Bissell.
About Comer Business Brokers, LLC
Comer Business Brokers, LLC, is a full-service business brokerage firm located in Fairfield County and service the entire state of Connecticut and Westchester County, NY. Owner and founder Irina Comer has more than a decade of experience of mergers and acquisitions of all types and sizes. Prior to starting her career in business brokerage industry, she spent 10 years at PricewaterhouseCoopers advising local, national, and international companies on transactional issues, including valuation, diligence, structuring and positioning. After obtaining her MBA from New York University's Stern School of Business, Irina worked with mergers and acquisitions division of Bank of America Merrill Lynch. For the full list of services and listings please refer to http://www.comerbb.com