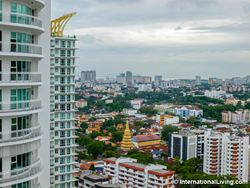 I wanted a little 'unknown' and a little 'wow…how interesting' in a destination
Baltimore, MD. (PRWEB) November 28, 2017
The editors at International Living report an increasing number of retirees opting to travel—and ultimately, retire—alone overseas. These single Boomers say they're drawn by the adventure, freedom, and empowerment traveling and even living alone overseas provides.
"It's not surprising our editors around the world are seeing this trend," says Jennifer Stevens, International Living's Executive Editor, "given that singles—women particularly—often face greater financial pressures in retirement than married couples do. And by traveling and living in good-value destinations abroad, single retirees are able to expand their quality of life while saving money. It's a way for solo Baby Boomers to take control of their retirement.
"Going overseas may seem like an intimidating prospect, but solo Baby Boomers regularly report that, particularly in communities with a well-established expat presence, arriving as a single is easy. There's a built-in community that makes integrating fast and simple. And lots say they enjoy the adventure. It keeps day-to-day living interesting.
"Plus, because these folks are choosing locales where elders are given a great deal of respect and relationships with neighbors and family are important, they find they feel safe and looked after. They may be flying solo, but they don't feel alone."
David Brych, originally of Virginia, worked for over 40 years in the hectic Washington, D.C. metro area. But when he contemplated retirement, he says he imagined a destination full of wonder and adventure. And that's what he found—in Sancerre, France.
"After much thinking, I was convinced that, wherever I went, I wanted a little 'unknown' and a little 'wow…how interesting' in a destination." With those thoughts in mind, David began to focus on France. "After all, I never spent any time there, didn't speak the language, and knew that the wine was definitely a 'wow,'" he says.
Sancerre, a town of around 1,600 people tucked away in the rolling hills of France's Loire Valley, produces world-class wines. The vineyards that stretch to the horizon define the landscape and drew David to the area.
"Wine and the wine industry is a small hobby of mine," he says. "Did it influence my decision? Perhaps."
But wine isn't all that makes this area special. Sancerre provides excellent outdoor activities. "There is barge-boating on the Loire River canal, horseback riding, kayak and canoe trips on the river, and plenty of walking paths and trails," says David. "The scenery is spectacular."
"Without exception, everyone I have met has been friendly and welcoming. Perhaps this all has something to do with the idea that 'rushing' isn't living. It seems everyone has time to say 'bonjour' or 'bonsoir' as we encounter each other on the streets."
Sancerre also offers life at a much more affordable cost. "Most everything is cheaper in Sancerre," says David. "The variety of artisanal cheeses is phenomenal, at prices that are dramatically lower than in the U.S."
Freedom and exploration are also draws for solo retirees. They are attracted to laidback, low-key destinations.
Take Thailand, for instance. "Here on Kho Phangan, I have more freedom than I would have in the States," says Brian Gruber, 61, originally from California. "The laidback atmosphere is infectious. I'm free to go swimming when I like and free to pursue work that is interesting to me. I'm also free to go out for lunch and dinner every day."
Kho Phangan is just half an hour by ferry from one of Thailand's most popular tourist islands, Kho Samui.
"I loved the life I had, but it was time for fresh exploration and experience, and I have little interest in returning to my past cycle of high stress, high expenses, in an intensely money-focused culture."
"I love this island," Brian says of his new tropical home. "I can be alone when I want to be, but have everything I need at my fingertips. I take regular yoga lessons, but can also enjoy more hedonistic pleasures. The reggae bar near my home has live music every Friday night, for example, or I can go to the west side of the island for a more upmarket meal."
The Thai island is a place of golden-sand beaches, tropical rainforest, and highly affordable living. "Rents start at around $200 for a simple bungalow and go all the way up to $1,500 for an upmarket apartment or condominium," he says. "You can buy street food for $1.50, but I prefer to eat in restaurants. In general, lunches cost me around $3 and dinner around $4. That includes delicious vegan or vegetarian food.
"I went out to dinner with friends the last time I was in California. The bill came to $100 each. Here on Kho Phangan, I can eat just as well for around $10, and that's at an expensive restaurant."
Single female Baby Boomers retired overseas report that they find the experience to be safer and more enjoyable than the retirement they'd have settled for in the U.S.
Judith LaRoue, 71, moved solo to Nicaragua last year. She says, "I feel safer in Nicaragua than in Atlanta, where I had [first] retired. Many single women have moved here, so it's not unusual to see us out walking around by ourselves. I am relaxed, but aware of my surroundings. And there are always other expats to buddy up with at night. If I'm out late, I can always get a taxi to my house for less than a dollar. I believe it's important to speak to your neighbors, recognizing who lives in your barrio and who doesn't is good for everyone. I live in San Juan del Sur where the people are very friendly and there are always people willing to give a helping hand."
Cheryl Fankhauser echoes the same sentiments. As a single woman, she was looking for a safe and welcoming place to settle—somewhere with a thriving social scene. Penang, Malaysia ticked those boxes. She says she found the locals friendly and she loved the fact that everything in George Town—the island's main city—is walkable and safe. Even "walking around here at midnight is never an issue," Fankhauser says.
A former outpost of the British empire, Penang's English-speaking populace makes it simple for North American expats to fit in and retirees report that life is easy and inclusive.
International Living's full guide to Solo Travel can be found here: Going Solo: How and Where to Enjoy Life Abroad as a Single
Editor's Note: Members of the media have permission to republish the article linked above once credit is given to InternationalLiving.com.
Further information, as well as interviews with expert authors for radio, TV or print, is available on request. Photos are also available.
For information about InternationalLiving.com content republishing, source material or to book an interview with one of our experts, contact PR Managing Editor, Marita Kelly, +001 667 312 3532, mkelly(at)internationalliving.com
Twitter: @inliving
Facebook: https://www.facebook.com/International.Living/
About International Living
For 37 years, InternationalLiving.com has been the leading authority for anyone looking for global retirement or relocation opportunities. Through its monthly magazine and related e-letters, extensive website, podcasts, online bookstore, and events held around the world, InternationalLiving.com provides information and services to help its readers live better, travel farther, have more fun, save more money, and find better business opportunities when they expand their world beyond their own shores. InternationalLiving.com has more than 200 correspondents traveling the globe, investigating the best opportunities for travel, retirement, real estate, and investment.