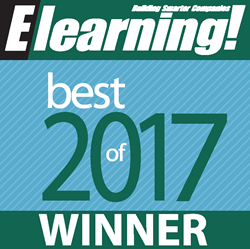 LOS ANGELES (PRWEB) November 28, 2017
Vubiz  has just been named 2017 Best of Elearning! Award winner as the Best Compliance Elearning for the sixth year in a row. This Award of Excellence from Elearning! Media Group is solely based on voter ballots.
The Best of Elearning! Awards recognize best-in-class solutions for elearning products and services.
"We are honored by all those that voted for Vubiz," said Jim Rapino, President of Vubiz, Ltd. "We're excited to acknowledge our team's commitment to creating the best compliance online training available at the best competitive price."
Vubiz has a deep catalog of award-winning compliance courses including Harassment Prevention, Affirmative Action, Workplace Violence, Ethics series, Banking compliance and Health & Safety courses.
Vubiz has also won best compliance elearning awards from Brandon Hall. Vubiz has a large "off-the-shelf" library of online courses that also includes bestsellers in business skills, soft skills, human resources and customer service skills.
Vubiz is an award winning elearning company that provides comprehensive services from a large, impressive online library of courses, to customized courses to distribution with learning management software. Vubiz's vision is to help organizations become more competitive through the use of world class Internet learning technologies and has built a superb reputation over the past decade of offering outstanding value and unbeatable customer support. Vubiz online courses and elearning technologies assist in building workforce excellence.
Elearning! Magazine is the exclusive voice of the $220 billion enterprise learning market. As new technologies develop, enterprise networks are born and content evolves, you can rely on Elearning! Magazine to keep you up to speed. The magazine delivers executives the roadmap for improving enterprise, partner and employee performance. As the voice of the robust learning and workplace technology market, our audience sees, shares and collaborates on industry best practices, technologies, and processes.