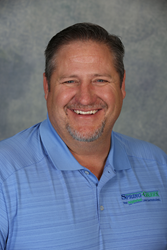 PLAINFIELD, Ill. (PRWEB) November 30, 2017
Spring-Green Lawn Care is proud to announce its newest franchise owner, Steve Ward of SJ Ward Landscapes in Longmont, CO.
Ward likes to think of his diversification with Spring-Green as a long-term commitment that will provide stability for the future. "Spring-Green expands our opportunity to provide fertilization and weed control services to commercial and residential properties. At scale this business can be very profitable and provides our family recurring revenue," said Ward, "As I prepare my business for succession planning or eventual sale adding Spring-Green simply further stabilizes our business model and allows us to better service our existing and future customers."
Ward has been involved in the green industry ever since he was an elementary school student mowing lawns. In 1993 he started SJ Ward Landscapes, providing custom landscaping, hardscaping, lighting, fencing, sprinklers, nursery, and lawn maintenance. Ward said his business "started with just myself and a couple guys in the back of a pick-up truck." Now, his company employs sixty people in the field, plus an office staff.
His business is a well-established business, but Ward says there's a large market in the Colorado area, and he knows Spring-Green will help him expand even further. "I'm a math guy. For me, it was all about the bottom line numbers," Ward stated. "That's what really attracted me to Spring-Green." He appreciates the fact that Spring-Green has been doing this for over 40 years but still feels like a family-owned business. "I like the hands-on approach," said Ward.
Ward recently invested in his company's infrastructure because he wanted to have a good, solid foundation to build upon. He is excited to use that foundation for his new Spring-Green venture. "Spring-Green's going to be huge for us," said Ward.
"Steve's family values and deep connection to the business make him an ideal addition to the Spring-Green family," said James Young, president of Spring-Green. "We are excited about having him take over this established territory. With his proven success in the market area and hands on approach, Steve is a great fit, and we look forward to helping him grow his business in the years ahead."
About Spring-Green Lawn Care
Founded in 1977, Plainfield, Illinois-based Spring-Green Lawn Care has been delivering lawn and tree care services nationwide for over 40 years. Its service is centered on the beautification of residential and commercial customers. Spring-Green is an attractive opportunity for entrepreneurs in the green industry who want to align themselves with a business model that has proven economic resilience, healthy profit margins, industry leading business and marketing intelligence, recurring revenue, and retirement and succession planning. For more information, visit http://www.springgreenfranchise.com.