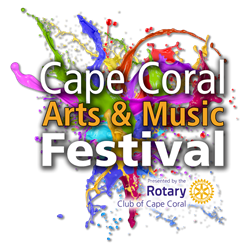 CAPE CORAL, Fla. (PRWEB) November 29, 2017
The Cape Coral Arts & Music Festival, hosted annually by the Rotary Club of Cape Coral, will return to South Cape Coral for its 33rd year. The festival will take place on Saturday, Jan. 13, 2018 from 10 a.m. to 9 p.m., and Sunday, Jan. 14, 2018 from 10 a.m. to 5 p.m. on Cape Coral Parkway in South Cape Coral between Del Prado Boulevard and SE 10th Place, and north to SE 47th Terrace. For the first time, the largest juried art show in Southwest Florida will showcase live music talent on Saturday, Jan. 13 from 3 p.m. to 9 p.m. Admission and parking are free for festival attendees.
The Cape Coral Arts & Music Festival is Lee County's largest special event according to the Lee County Tourist Development Council and the Lee County Visitors and Convention Bureau. Attracting over 100,000 visitors, this annual festival brings together the works of more than 300 juried artists and artisans from across the country. Exhibitors will showcase their fine art, sculpture, pottery, jewelry, photography, metal works, mixed media, and much more. Food will be available for purchase from a variety of vendors via Little Joe's Special Events.
Live performances by musicians from across the nation playing everything from rock and roll to gospel will take place Saturday, January 13th from 3 p.m. to 9 p.m. Dixie Roadhouse, Rack'em Spirits & Times, Big Blue Brewing, BackStreets Sports Bar, The Dek, The World Famous Cigar Bar, Ralph's Place, Two Amigos Restaurant and Nevermind Awesome Bar and Eatery will provide a variety of music for attendees to enjoy.
Another first, the Rotary Club of Cape Coral is offering the opportunity for local businesses to expose their brands to the more than 100,000 visitors expected at the 33rd Cape Coral Arts & Music Festival via business booths. These booths were added as an extension to the existing festival vendors. For more information on getting a business booth, please visit CapeCoralFestival.com/business-booth.html.
Volunteers are needed, and sponsorship opportunities are still available. For more information about or to participate in the Cape Coral Arts & Music Festival, please call Jim Perry at (239) 699-7942 or visit CapeCoralFestival.com.
The Rotary Club of Cape Coral proud to bring the Cape Coral Arts & Music Festival to Southwest Florida annually. The 2018 event sponsors currently include: Experience Real Estate, Destination Boat Clubs, Downtowner Car Wash, Waste Pro, Lamar, Direct Impressions, Community Redevelopment Agency of Cape Coral, The Beaches of Fort Myers and Sanibel, Premier Wellness Group, Wonderland Realty, and Happenings Magazine.