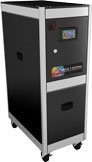 RICHFIELD, Wis. (PRWEB) November 30, 2017
Following a highly successful launch of its 1 to 30 ton Variable Speed Air Cooled Chillers, Delta T Systems has expanded the application of this new technology to a line of 2 to 30 ton Variable Speed Water Cooled Chillers.
Chillers maintain process temperatures by circulating water through a refrigerant cooled heat exchanger called an evaporator. This heat is then removed via an air or water-cooled condenser. Air-cooled condensers use ambient air to remove the heat where water-cooled condensers use a water source to remove the heat. Certain applications necessitate a water cooled chiller, often times to prevent the circulation of heated air within the facility. The Delta T Systems water-cooled chiller can be piped to a city water source or cooling tower water supply. In order to optimize chiller efficiency and temperature control with varying ambient and condenser water supply temperatures, it is best to use a variable or modulating control for the condenser heat removal. To achieve this, Delta T Systems chillers use a variable speed condenser fan on air-cooled condenser units and a modulating control valve on water-cooled condensing units. These condenser modulating devices coupled with a variable speed compressor, electronic expansion valve, and sophisticated controls allows Delta T Systems to provide the most efficient chiller in the market.
The integration of variable speed controls is a proven technology, yet in it's infancy within process cooling applications. The main benefit of this new technology is a dramatic reduction in operating costs relative to fixed speed systems. Conservatively, annual energy cost reductions will equal 30% to 50%, which translate to operating cost reductions of $3,000 to $4,000 for a 10 ton chiller operating one full shift per day. That significant energy savings yields a full ROI of less than 3 years!
Delta T Systems new line of Variable Speed Water Cooled Chillers offers capacities that range from 2 to 30 tons and integrates variable speed compressors on all models.
The new water cooled chiller line offers these innovative features:

Energy savings between 30% and 50% of the initial investment
Tight temperature control within ½ a degree
Stainless steel, copper brazed plate evaporator for reduced maintenance
Hermetically sealed variable speed compressor technology
Non-ferrous chilled water piping
Smallest footprint in the industry
Advanced control platform from the leader in HVAC and refrigeration controls
Industry 4.0 ready
About Delta T Systems
Delta T Systems, headquartered in Richfield, WI, has dedicated itself to one single discipline, process temperature control. For the past 25+ years, Delta T Systems has partnered with the leaders of the industry to meet their demanding specifications and provide reliable, efficient equipment. Incorporating sound fundamental engineering principles ensures that users receive accurate and reliable temperature control and years of unmatched performance. Delta T Systems, American made, high quality units are competitively priced and will perform to spec for a wide variety of industries and applications.
Delta T Systems manufactures water and oil Temperature Control Units, as well as, air and water cooled Chillers. Our full line of system solutions are available in many sizes to fit all process needs, with temperature control ranges from 0°F (-18°C) up to 650°F (343°C).
To better serve our extensive customer base, Delta T Systems has launched a secure, user friendly e-commerce website for our replacement parts business. Visit http://www.deltatparts.com .
For more information on Delta T Systems please visit our corporate website at http://www.deltatsys.com