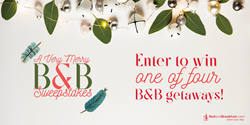 "The holidays are a time to give thanks and show our appreciation for the B&B community, and this sweepstakes gives us the chance to do just that."
Austin, Texas (PRWEB) November 28, 2017
BedandBreakfast.com®, the world's largest bed and breakfast travel site, will host its first-ever Very Merry B&B Sweepstakes from November 28 to December 17, 2017. Four winners will receive a vacation package from BedandBreakfast.com and its partners for a 5-night stay in one of four destinations.
Full sweepstakes details and rules visit: https://www.bedandbreakfast.com/info/a-very-merry-bb-sweepstakes
"This sweepstakes is the perfect opportunity to introduce our travelers to new destinations for their future B&B getaways," said Ryan Hutchings, Director of Global Marketing at BedandBreakfast.com. "The holidays are a time to give thanks and show our appreciation for the B&B community, and this sweepstakes gives us the chance to do just that."
How to Enter:
Contestants may visit the sweepstakes website between November 28 and December 17 to fill out the entry form for a chance to win one of four vacation packages. The entry period for each vacation package will last for a total of five days, starting on November 28.
November 28 - December 2: Dublin Ireland
December 3 - December 7: Fort Myers, Florida
December 8 - December 12: Sonoma, California
December 13 - December 17: Northeast Kingdom, Vermont
BedandBreakfast.com recently added the slogan, "Savor Your Stay," to capture the relaxing experience of one of the oldest types of lodging. The B&B experience offers the freedom to slow down and live in the moment, experiencing unhurried enjoyment and delight.
For the full sweepstakes terms and conditions, please visit the official sweepstakes rules page.
About BedandBreakfast.com
BedandBreakfast.com is the world's largest B&B travel site. With more than 10,000 properties worldwide and nearly 80,000 rooms, we help travelers discover and book unique small hotels, inns and B&Bs. Based in Austin, Texas, BedandBreakfast.com was founded in 1995 and is owned by HomeAway®, the world leader in vacation rentals and a part of the Expedia, Inc. family of brands.
© 2017 HomeAway. All rights reserved. BedandBreakfast.com and the BedandBreakfast.com logo are trademarks of HomeAway. All other trademarks are property of their respective owners.