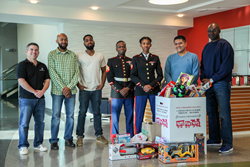 DURHAM, N.C. (PRWEB) November 29, 2017
The Law Offices of James Scott Farrin (JSF) and Upcycle Legal (UL) recently joined forces to contribute toys and a monetary donation to the U.S. Marines Toys for Tots charity.
The two companies, currently employ five former U.S. Marines including Eric J. Sanchez, Gerald Jones, Marcial Harper, Rey Sosa, and Patrick McGollie.
When the companies issued a fitness challenge to raise money for favorite employee charities, Rey Sosa's team set out to win the prize money for Toys for Tots. The challenge was part of a contest to count the number of steps employee participants took each day. Employees across both companies also had the ability to contribute money toward individual steps.
When Rey Sosa, Operations Manager for Upcycle Legal and former U.S. Marine, previously volunteered for Toys for Tots as a Marine and subsequently as a civilian, he knew he would be a volunteer for life. "When you see the looks on those little kids' faces. It doesn't matter if they get a $5 plastic toy, they are so happy their faces light up," said Sosa.
Sosa's face lights up too when he talks about the Marines' annual Toys for Tots charity.
"It was a win-win," Sosa said. "Not only did the contest get many of us out of the office, moving and getting some exercise, but it also brought in needed funds for this well deserving charity."
About Toys for Tots Foundation
The mission of the U. S. Marine Corps Reserve Toys for Tots Program is to collect new, unwrapped toys during October, November, and December each year, and distribute those toys as Christmas gifts to less fortunate children in the community in which the campaign is conducted. The primary goal is to deliver, through a new toy at Christmas, a message of hope to less fortunate youngsters that will assist them in becoming responsible, productive, patriotic citizens.
The objectives of Toys for Tots are to help less fortunate children throughout the United States experience the joy of Christmas; to play an active role in the development of one of our nation's most valuable resources – our children; to unite all members of local communities in a common cause for three months each year during the annual toy collection and distribution campaign; and to contribute to better communities in the future.
ABOUT THE LAW OFFICES OF JAMES SCOTT FARRIN
The Law Offices of James Scott Farrin is headquartered in the American Tobacco Historic District, adjacent to the Durham Bulls Athletic Park, in Durham, North Carolina, with 13 additional offices statewide in Charlotte, Fayetteville, Greensboro, Greenville, Goldsboro, Henderson, New Bern, Raleigh, Roanoke Rapids, Rocky Mount, Sanford, Wilson, and Winston-Salem. The firm's 45 attorneys focus on the following practice areas: Personal Injury, Workers' Compensation, Social Security Disability, Eminent Domain, Intellectual Property, Civil Rights, Mass Torts, and Products Liability. Seven of the attorneys are North Carolina Board Certified Specialists in Workers' Compensation Law and one is a North Carolina Board Certified Specialist in Social Security Disability Law. The Law Offices of James Scott Farrin is involved in the community, including sponsorship of local philanthropic organizations.
ABOUT UPCYCLE LEGAL
Upcycle Legal is a consulting firm located in Durham, North Carolina. Upcycle Legal works with select law firms across the United States to help them grow and enhance their profitability by applying proven systems to their practice.
Contact Information:
David Chamberlin
280 S. Mangum Street
Suite 400
Durham, NC 27701
866-900-7078
http://www.farrin.com