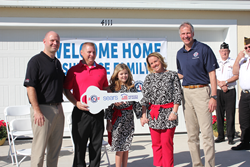 "This new home means so much to us," said veteran Steve Surface. "It will provide support and stability for my wife and daughter."
SPRING HILL, Fla. (PRWEB) December 19, 2017
Operation Homefront, a national nonprofit whose mission is to build strong, stable, and secure military families, announces today that U.S. Army veteran Steve Surface received the keys to his newly built, mortgage-free home, donated by Sears.
Surface was awarded the 1,629 square-foot, three-bedroom, one-story, single-family home built by Wade Jurney Homes in Spring Hill, Florida, through Operation Homefront's Homes on the Homefront program.
This extraordinary Giving Tuesday gift was made possible by Sears' Heroes at Home initiative. Through Heroes at Home, Sears' members and customers have generously donated to Operation Homefront when checking out at Sears stores and online at sears.com/heroesathome.
"This new home means so much to us," said Steve. "It will provide support and stability for my wife and daughter."
"My daughter will be able to have friends – especially in the neighborhood," added Steve. "It's really hard to grasp the concept of a mortgage-free home, but this will be a part of my recovery and we will be part of a great community."
Born in North Carolina at Pope Air Force Base, Steve Surface was the son of a Vietnam-era member of the Air Force. When Steve graduated from high school he made the decision to follow his family's legacy of military service and enlisted in the Marines.
Steve served for almost nine years in the Marines. In 1993, he deployed to Somalia. He returned safely, but decided he was not yet finished serving his country. He decided to reenlist, but this time with the Indiana Army National Guard. He would serve for three more years before enlisting in the Army Reserves in 2004.
In 2006, Steve would again become an active duty service member. He rose to the rank of sergeant first class in the Army and served as a platoon sergeant for an infantry unit.
From 2010 to 2011 he served in the Middle East in Afghanistan. He would earn a Purple Heart and Bronze Star for his courageous and selfless acts in combat. In 2016, he retired with an honorable discharge.
"We are very grateful for all Sears and their customers are doing to help us help military families through their amazing Heroes at Home program," said Brig. Gen. (ret.) John I. Pray, Jr., president and CEO of Operation Homefront. "As we approach our 600th home award milestone, reflecting over $60 million in deeded home value, we are excited that teaming with Sears will allow the Surface family to build a future in a home they can call their own and give them the opportunity to thrive, not simply struggle to get by, in a community they have worked so hard to protect."
Operation Homefront created the Homes on the Homefront program with the assistance of corporate partners to award mortgage-free homes to our nation's veterans and military families. Since 2012, Operation Homefront has placed nearly 600 military families nationwide, providing them with over $60 million dollars in deeded value to military families.
The homes are donated by corporate partners including Sears and other major financial service companies, as well as home builders.
"Our veterans have protected the freedoms that allow all of us to make the most of every day – to live life now," said Kelly Cook, chief marketing officer for Sears and Kmart. "This amazing program with Operation Homefront is helping military families in need and change lives for the better in big ways and small."
Anyone looking for more information about the Homes on the Homefront program, or to apply, can go to http://www.homesonthehomefront.org."
###
About Sears, Roebuck and Co.:
Sears, Roebuck and Co., a wholly owned subsidiary of Sears Holdings Corporation (NASDAQ: SHLD), is a leading integrated retailer providing merchandise and related services and is part of Shop Your Way, a social shopping experience where members have the ability to earn points and receive benefits across a wide variety of physical and digital formats through shopyourway.com. Sears, Roebuck offers its wide range of home merchandise, apparel and automotive products and services through Sears-branded and affiliated full-line and specialty retail stores. Sears, Roebuck also offers a variety of merchandise and services through sears.com and specialty catalogs. Sears, Roebuck offers consumers leading brands including Kenmore, Craftsman, and DieHard -- among the most trusted and preferred brands in the U.S. The company is the nation's largest provider of home services, with more than 6,000 expert technicians who make nearly 11 million service calls annually. For more information, visit the Sears, Roebuck website at http://www.sears.com or the Sears Holdings Corporation website at http://www.searsholdings.com.
About Operation Homefront: Founded in 2002, Operation Homefront is a national nonprofit organization whose mission is to build strong, stable, and secure military families so that they can thrive - not simply struggle to get by – in the communities they have worked so hard to protect. Recognized for superior performance by leading independent charity oversight groups, 92 percent of Operation Homefront expenditures go directly to programs that support tens of thousands of military families each year. Operation Homefront provides critical financial assistance, transitional and permanent housing and family support services to prevent short-term needs from turning into chronic, long-term struggles. Thanks to the generosity of our donors and the support from thousands of volunteers, Operation Homefront proudly serves America's military families. For more information, visit OperationHomefront.org.