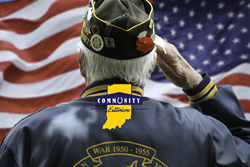 We are looking for more ways to become involved
INDIANAPOLIS (PRWEB) November 29, 2017
This November, in honor of Veterans day, local roofers and siding contractors Community Exteriors, Inc. proudly becomes a Veterans Preferred Business with the Veterans News Network. Confidently serving the Indianapolis area, Community Exteriors, Inc. fulfills their promise of connecting with the communities they work within as it was their personal experience with the veterans in the Indianapolis metropolitan area that prompted them to become a part of the Veterans News network.
David A. Farbaky, President/CEO of Community Exteriors, Inc., says "Those who have served in our United States Armed Forces rarely get enough recognition or support for their sacrifice. Since starting this company, we have done a lot of business with the Vets of the area and joining this news network was a recommendation from them. I'm just glad we can become more involved and act on this organic referral from our customers."
For those unfamiliar, the Veterans News Network has now written over 1700 Hero stories and is broadcast in over 500 Veteran clubs across America. Their programming provides entertainment and news that Veterans enjoy everyday.
This accolade is only just the beginning says Farbaky: "Becoming a part of this network and providing our support is just the first steps. The Veterans around Indianapolis need more local business engagement and we are looking for more ways to become involved. If we can help or support our great Nation's troops, we will do it as best we can."
Community Exteriors, Inc. offices are located at located at 5643 W 74th Street, Indianapolis, IN 46278. Offering Free Property Inspections, Farbaky insists anyone stop in and schedule a home assessment.
For more information on this new listing for Community Exteriors, Inc., please visit https://www.vnnusa.com/directory/community-exteriors-inc-listing-23920.aspx
ABOUT COMMUNITY EXTERIORS, INC.
Community Exteriors, Inc. is a family-owned company of bonded and insured General Contractors providing services for the Indianapolis area. They also proudly assist those in Zionsville, Whitestown, Greenwood, Brownsburg, Carnel, Fishers, Plainfield, Cumberland, Lawrence, and Avon as well.
To learn more about Community Exteriors, Inc. please visit their website at Communityexteriorsinc.com/ Call 317 767 1320 for an free expert roof inspection.
Being roofers who finance, Community Exteriors, Inc. is fully licensed and insured and offers a 10 year craftsmanship warranty.
###