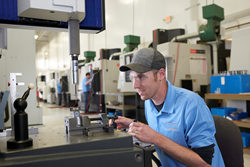 "The current facility was designed by our owners Jack Mowry founder, Trisha Mowry, CEO and Sean Mowry, COO/President with employees in mind—plenty of space, natural light, and a clean, inviting environment."
ELK RIVER, Minn. (PRWEB) November 29, 2017
Manufacturing is no longer the dark, dingy, and dirty work of the past. And throughout the past twelve months, Metal Craft of Elk River has taken action to create better awareness about the opportunities available for Central Minnesota career-seekers.
The second-generation family-owned manufacturing facility is part a partnership of fellow Central Minnesota employers who work together to break down myths and misunderstandings about the manufacturing industry. Earlier this year, these employers organized a "Tour of Manufacturing," where the general public was invited to tour the inside of their facilities and learn about the work that is done within their plants. Metal Craft hosted 140 visitors, which were a mix of students, parents, teachers, community members, and politicians.
"Visitors are always impressed with the Metal Craft facility and the complex work that is performed here," said Kelly Read, Human Resources Recruiter at Metal Craft. "The current facility was designed by our owners Jack Mowry founder, Trisha Mowry, CEO and Sean Mowry, COO/President with employees in mind—plenty of space, natural light, and a clean, inviting environment."
Metal Craft has a longstanding relationship with area high schools and technical colleges, helping students learn about the vast opportunities that exist for manufacturing careers within the area. "We don't want students to overlook manufacturing as a career choice and potentially miss out on a great opportunity to have fulfilling work and well-paying careers," said Read.
Metal Craft and Riverside Machine and Engineering, which serves the manufacturing needs of the medical, orthopedic, aviation, aerospace, and defense industries, currently employs more than 250 people in a variety of positions and continues to hire on all of their shifts due to continued accelerated growth.
"People have been at the heart of our company since the very beginning," said Trisha Mowry, CEO of Metal Craft. "It is only with our valued employees and our dedication to meeting our customers' expectations that we continue to succeed."
Metal Craft and Riverside will continue to build awareness about opportunities in manufacturing, not only for new graduates, but for individuals looking for a career change. "In addition to competitive wages and other benefits, our company provides on-the-job training and also helps support those who are in school for machining, or who go back to school for further education," said Read. "We really want people to know that working in manufacturing with the right employer is more than a job, it's a rewarding career."
About Metal Craft: Metal Craft has been providing innovative machining solutions since 1978. Jack Mowry established the business in a small basement workshop of a strip mall in Elk River and built the company on the core values of quality, service, innovation, and people. This has allowed the company to become recognized among the leading suppliers in the Medical Device and Implant Manufacturing industries. In 1996, Metal Craft expanded its precision machining capabilities by acquiring Riverside Machining & Engineering, which is now located in Eau Claire, Wisconsin. Joining the two companies has increased production and service capacities, providing the capability to meet all manufacturing needs of the business they serve. Learn more at http://www.mcandrs.com and find career openings at http://www.metal-craft.com/careers-at-metalcraft.html and http://www.riversidemachine.com/career-at-riverside-machine-engineering.html