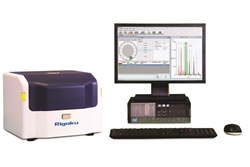 ANTWERP, Belgium (PRWEB) November 29, 2017
Applied Rigaku Technologies, Inc. (ART) will be presenting its line of energy dispersive X-ray fluorescence (EDXRF) instrumentation at the Petroleum, Refining, and Environmental Monitoring Technologies Conference (PEFTEC 2017) on November 29 - 30, 2017 at the Antwerp Expo in Antwerp, Belgium. PEFTEC is a focused international conference and exhibition for analytical chemists, scientists, process operators, laboratory personnel and environmental managers who work in and around the petroleum, refining, chemical and petrochemical industries.
EDXRF is employed for rapid non-destructive elemental analysis of crude, oils, gasoline, fuels, lubricants and waste materials. ART will be exhibiting its lines of EDXRF instrumentation and its NEX XT sulfur in crude/bunker fuel process analyzer at Stand # 66.
On display will be the Rigaku NEX DE high-performance direct excitation EDXRF elemental analyzer. The NEX DE analyzer was conceived for heavy industrial applications and engineered to heighten flexibility and ease of use. It is equipped with a 60 kV, 12 W X-ray tube and advanced Peltier cooled silicon drift detector (SDD) for significant gains in elemental peak resolution and counting statistics, to deliver superior calibrations and precision for the most challenging measurements.
The system operates on the latest Rigaku QuantEZ analytical software, specifically designed for the Rigaku family of benchtop EDXRF analyzers. Running under the Microsoft Windows operating system, on a laptop or benchtop personal computer (PC), the software offers all the functions required for calibration and routine operation.
The newest addition to the NEX DE series is the Rigaku NEX DE VS direct excitation variable spot EDXRF elemental analyzer. The NEX DE VS analyzer is uniquely suited for small spot analysis applications. It features a high-resolution camera combined with automated collimators, allowing for precise positioning of a sample for the analysis of 1 mm, 3 mm, and 10 mm spot sizes.
Other EDXRF solutions from ART include the Rigaku NEX QC+ spectrometer, a compact elemental analyzer specifically designed for routine quality control applications. It features an intuitive "icon-driven" touch screen interface and built-in printer for easy operation and convenience. The 50 kV X-ray tube and Peltier cooled silicon drift detector (SDD) deliver outstanding repeatability and long-term reproducibility with excellent element peak resolution.
Along with its line of benchtop EDXRF analyzers, the ART division also offers the Rigaku NEX XT XRT process analyzer for monitoring the sulfur content of heavy hydrocarbons such as crudes and bunker fuels. Use of the X-ray transmission technique eliminates issues such as window coating and plugging commonly seen on other XRF techniques.
In addition to the NEX XT, ART offers the Rigaku NEX OL EDXRF process analyzer for on-line, multi-element analysis of process liquids including sulfur in fuels. The 50 kV X-ray tube and Peltier cooled silicon drift detector X-ray optics are also effective for coating thickness and elemental composition in web and coil applications. Featuring third generation EDXRF technology, the advanced NEX OL analyzer represents the next evolution of elemental analysis for liquid stream and fixed position web or coil applications.
About Rigaku
Since its inception in Japan in 1951, Rigaku has been at the forefront of analytical and industrial instrumentation technology. Rigaku and its subsidiaries form a global group focused on general-purpose analytical instrumentation and the life sciences. With hundreds of major innovations to their credit, Rigaku companies are world leaders in X-ray spectrometry, diffraction, and optics, as well as small molecule and protein crystallography and semiconductor metrology. Today, Rigaku employs over 1,400 people in the manufacturing and support of its analytical equipment, which is used in more than 90 countries around the world supporting research, development, and quality assurance activities. Throughout the world, Rigaku continuously promotes partnerships, dialog, and innovation within the global scientific and industrial communities.
For further information, contact:
Robert Bartek, President
Applied Rigaku Technologies, Inc.
tel: +1. 512-225-1796
info(at)RigakuEDXRF(dot)com