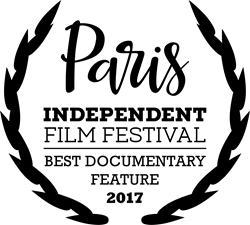 It is an extremely sensitive theme" says Poels. "The film has a lot of resistance and assistance at the same time. There is division, not only in the social but also in the scientific debate. We will pay enormous costs for CO2 reduction
CALGARY and ALBERTA, Canada (PRWEB) November 29, 2017
"The Uncertainty Has Settled" by independent Dutch filmmaker, Marijn Poels, has picked up its third award, this time for Best Feature Documentary at the Paris Independent Film Festival, says Friends of Science, reported in English on their blog, and in the foreign press. The film was deemed a 'must-see' by HERO after its win at the 2017 Berlin Film Fest. The film was also honored at the LA Mindfield Fest.
The lyrical film, beautifully shot, features Poels' odyssey upon returning from working in developing nations where food security is an issue, only to find Europe dotted with wind farms and farmers producing energy instead of potatoes.
The jury chose "The Uncertainty Has Settled" as a "powerful crowbar" for opening the often-contentious debate on climate change and energy.
In the film, Poels mainly is visiting farmers in the German state of Saxony Anhalt who suffer from European regulations. Due to a failing agricultural policy and the billions of subsidies for the production of green energy, many farmers have become energy suppliers…instead of food producers.
Poels has been touring Europe with his film, facing heated discussions in the cinemas."It is an extremely sensitive theme," says Poels. "The film has a lot of resistance and assistance at the same time. There is division, not only in the social but also in the scientific debate. We will pay enormous costs for CO2 reduction."
More info about film LINK: theuncertaintyhassettled.de
WindAware Ireland just released a report addressing the topic of cost. Ireland is facing serious economic challenges due to their renewables program. A key point made in this Nov. 2017 report from Wind Aware is that there was a lack of cost-benefit analysis prior to embarking on their renewables campaign, and CO2 reductions are nominal vis a vis the costs. Please read the full report to appreciate their perspective.
About
Friends of Science Society is an independent group of earth, atmospheric and solar scientists, engineers, and citizens, celebrating its 15th year of offering climate science insights. After a thorough review of a broad spectrum of literature on climate change, Friends of Science Society has concluded that the sun is the main driver of climate change, not carbon dioxide (CO2).
Friends of Science Society
P.O. Box 23167, Mission P.O.
Calgary, Alberta
Canada T2S 3B1
Toll-free Telephone: 1-888-789-9597
Web: friendsofscience.org
E-mail: contact(at)friendsofscience( dot)org
Web: climatechange101.ca