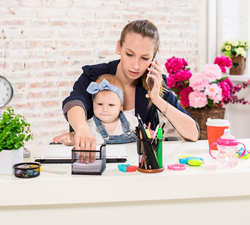 Modern technology makes us more productive in or out of the office.
HOBOKEN, N.J. (PRWEB) November 30, 2017
A NYC area retail and small business technology consultant and MSP shares its list of fun and useful tech gifts for professionals who work remotely in a new article on the eMazzanti Technologies website.
In the informative article, the company highlights ten technology gifts to enhance the home office or outfit the busy traveler. Items such as high-tech luggage, a voice-controlled Amazon Echo touchscreen and affordable smartphone camera lens appear on the holiday gift-giving list.
"This year, give a gift that delivers year-round convenience and utility," stated Jennifer Mazzanti, CEO and Co-founder of eMazzanti Technologies. "Modern technology makes us more productive in or out of the office."
Below are a few excerpts from the article, "Perfect Tech Gifts for Telecommuting Professionals."
"No longer confined to the office, nearly half of American workers spend time working remotely. Since the holidays have arrived and the city glitters with festive lights, it's time to find that perfect gift for the telecommuter on your list."

"Amazon Echo Show – Combine the benefits of the Echo with a touchscreen. See the weather forecast, make video calls, and connect with your security cameras, all hands-free. This is the gift you didn't know you needed and now can't live without."
"Raden A-22 Carryon – With a sleek look and smart technology, Raden returns luxury to travel. Check luggage weight by lifting the bag handle. Charge your phone with the built-in power bank during a long layover. Use the Raden app to view estimated security line wait time at your airport or quickly locate your luggage at baggage claim."
"Aukey 3-in-1 Lens Set – You could spend a great deal more on top of the line camera lenses for your smartphone, but it's hard to beat Aukey for affordability and ease of use. This set includes clip-on wide-angle, macros and fisheye lenses for just $12."
Tech Gifts that Last
Working out of the office offers flexibility and some creature comforts. But, holiday shoppers should not hesitate to elevate the experience a bit more for hardworking telecommuters. A Vicstin speaker, Anker portable charger, Raden luggage or similar gift from eMazzanti Technologies tech gifts list will keep the holiday spirit going all year long.
Related resource information:
5 Business Benefits of Gratitude
Scary Tech: The Stuff of Nightmares
About eMazzanti Technologies
eMazzanti's team of trained, certified IT experts rapidly deliver retail and payment technology, digital marketing services, cloud and mobile solutions, multi-site implementations, 24×7 outsourced network management, remote monitoring and support to increase productivity, data security and revenue growth for clients ranging from law firms to high-end global retailers.
eMazzanti has made the Inc. 5000 list eight years running, is a 2015, 2013 and 2012 Microsoft Partner of the Year, 2016 NJ Business of the Year, 5X WatchGuard Partner of the Year and one of the TOP 200 U.S. Microsoft Partners! Contact: 1-866-362-9926, info@emazzanti.net or http://www.emazzanti.net Twitter: @emazzanti Facebook: Facebook.com/emazzantitechnologies.