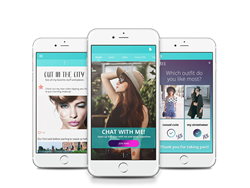 Data is power, making social influencers who truly understand their audiences far more valuable to today's top brands.
TEL AVIV (PRWEB) December 11, 2017
Swifitic, a leading mobile app-creation solution for brands and businesses is now rolling out Swiftic.io, a platform which allows social influencers to effortlessly create and publish their own branded app, powered by unique features designed to help them engage and monetize their social activity.
Today's social influencers are a key factor in how global brands increase their marketing reach with targeted demographics. In fact, when it comes to having an effect over what products and services people purchase, the power of word of mouth is unmatched. This is true especially with millennials, yet content creators are often held back from unleashing their full influential potential due to limitations imposed by social networks.
Swiftic.io's mission is to deliver a branded app creation platform focused on social influencers, allowing them to maximize their social brand's reach and value, while owning the social assets they work so hard to create.
Swifitic.io is specifically focused on working with the social influencers with 50k followers and above on Instagram, Facebook, YouTube or Twitter.
Among Swiftic.io's popular content creators is music artist Lenay Chantelle Olsen, best known for her YouTube channel 'Lenay Music' which boasts an impressive 4.5 million subscribers on her Spanish channel, as well as an additional 640K subscribers on her English channel.
According to recent statistics, 60 percent higher campaign engagement rates are driven by micro-influencers. Those campaigns are 6.7 times more efficient per engagement than influencers with larger followings, which makes them more cost effective; and micro-influencers drive 22.2 times more weekly conversations than the average consumer.
From the influencer's perspective, standing out in a sea of content creators is becoming increasingly challenging as more and more people take to the web's most active social channels to share their passion. Launching a personalized
branded app with Swiftic.io allows social influencers to stand out above the social noise while increasing their engagement with their loyal fans. Additionally, Swiftic.io creates new monetization opportunities for social influencers, such as launching their own mobile storefront, using affiliate links, charging a subscription fee for exclusive content, product campaigns, and most importantly access to data.
"Data is power, making social influencers who truly understand their audiences far more valuable to today's top brands." Shared Yoav Adomi, Swiftic.io's Co-founder and CEO. "By taking advantage of Swiftic.io's feature rich platform and analytics, social influencers now have a better understanding than ever before about who their followers are, allowing them to create campaigns focused on their fans main interests." He said.
The potential for social influencers to own their social assets, by bringing together their content and personalized style under their own branded app, delivers an opportunity for social influencers to increase their brand's value unlike ever before, and ultimately earning more for their passion.
Swiftic.io opens a new world of branded marketing opportunities for brands and businesses, by tapping into the power of 'word of mouth' marketing that only social influencers and micro-influencers can deliver, while creating trackable campaigns that are accurately measured, taking the guess work out of social influencer marketing initiatives.
In this initial phase of the launch, Swiftic.io is inviting social influencers to take part in their closed beta phase, and get early access to Swiftic's powerful branded app platform by visiting - http://www.swiftic.io