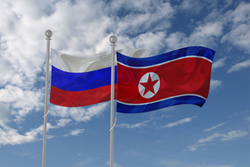 PHILADELPHIA (PRWEB) November 29, 2017
The failure of all attempts to date to restrain North Korea's nuclear weapons program suggests it is time for a new approach. That is the premise of a year-long research project, just completed, that explores the possible role of Russia as a broker of negotiations over North Korea's nuclear and missile programs.
Conducted by the Foreign Policy Research Institute in Philadelphia, in cooperation with scholars from the Far Eastern Federal University in Vladivostok, the Moscow State Institute of International Relations, and the Russian Academy of Sciences in Moscow, the project has resulted in the publication of two reports – posted today on FPRI's website – in advance of a conference tomorrow, Nov. 30, hosted and cosponsored by the Asia Program at the Wilson Center, where the project findings will be the subject of discussion.
The first report, "Nuclear Weapons and Russian-North Korean Relations," includes five essays on the history of Soviet and Russian relations with North Korea, economic relations between the two countries, Russia's assessment of North Korea's military capabilities, Moscow's strategy for the Korean Peninsula, and the possible role Russia can play in resolving the Korean crisis. The second report, "Russia and Crisis Management on the Korean Peninsula," makes the case that a more prominent role for Russia in the international community's negotiating position vis-à-vis North Korea is long overdue.
In the Foreword to the report, Yale professor Paul Bracken explains that "The report reframes how we think about North Korea and the long-term impacts of its nuclear weapons." Bracken is a noted expert on nuclear force management.
The project has been managed jointly by Rensselaer Lee, a senior fellow of FPRI, and Artyom Lukin, Deputy Director for Research at the School of Regional and International Studies of Far Eastern Federal University in Vladivostok.
About the Foreign Policy Research Institute
Founded in 1955, the Foreign Policy Research Institute is dedicated to bringing the insights of scholarship to bear on the foreign policy and national security challenges facing the United States. It seeks to educate the public, teach teachers, train students, and offer ideas to advance U.S. national interests based on a nonpartisan, geopolitical perspective that illuminates contemporary international affairs through the lens of history, geography, and culture.