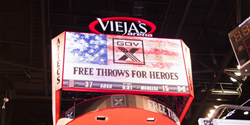 "Free Throws for Heroes is one more way we can demonstrate our appreciation for San Diego cops. We hope every time the Aztecs stand at the free throw line, they sink their shot." - Alan Cole, GovX CEO
SAN DIEGO (PRWEB) November 30, 2017
GovX, the online shopping site exclusively for current and former military and first responders, introduced "Free Throws for Heroes", a new program to support the San Diego law enforcement community. GovX will donate $50 to the San Diego Police Foundation every time the San Diego State men's basketball team makes a free throw at home games during the 2017-2018 season.
The San Diego Police Foundation is an independent 501 (c)(3) nonprofit organization that aims to enhance relations between the police and the community they serve, and awards grants to the San Diego Police Department for gear, training, and collaborative community programs. These grants fund important equipment such as protective vests, upgrades technology and software, the purchase and training of new police service dogs, and much more so that police officers can continue to keep San Diego communities safe.
"We are grateful to have community partners like GovX," said Sara Napoli, Police Foundation CEO. "Not only because of the much-needed donations such a campaign provides but also because it demonstrates to our police officers the support of the community while raising awareness for the cause of public safety."
Amid worsening budget cuts and a police officer shortage in San Diego, the work of the San Diego Police Foundation has grown increasingly essential for officers who continue to rely on out-of-pocket expenses for on-the-job gear and training. In addition to GovX's charitable donation efforts with its Mission Giveback program, Free Throws for Heroes is one more way GovX continues to support the missions of uniformed professionals.
"Here in San Diego, we have a deep appreciation for our local police officers," said Alan Cole, GovX CEO. "Free Throws for Heroes is one more way we can demonstrate that appreciation. We hope every time the Aztecs stand at the free throw line, they sink their shot."
Learn more about the San Diego Police Foundation by visiting their website.
View Aztecs men's basketball home schedule.
About GovX:
GovX.com is for men and women of service. A members-only online destination for military, first responders, and government employees, the site offers thousands of products, tickets and experiences from hundreds of brands at members-only pricing. Members include active and veteran U.S. military, firefighters, law enforcement officers, federal agents, and personnel from related government agencies. For more information, visit GovX.com.