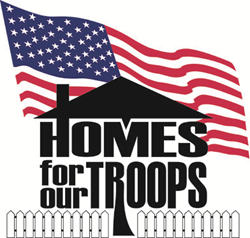 "Homes For Our Troops was our Mission Giveback recipient last spring, and we couldn't be prouder to once again support their mission." - Alan Cole, GovX CEO.
SAN DIEGO (PRWEB) December 06, 2017
GovX, the online shopping site exclusively for current and former military and first responders, selected Homes For Our Troops as December's recipient of the Mission Giveback donation program. Each month, GovX chooses a new service-related foundation performing work in the military, first responder, or law enforcement communities and donates a portion of proceeds from orders placed during the given month.
Homes For Our Troops is a 501(c)(3) nonprofit organization that builds and donates specially adapted, custom homes for severely injured post-9/11 veterans to assist them in rebuilding their lives. Most of the veterans whom HFOT assists have sustained injuries including limb amputations, partial or full paralysis, and/or severe traumatic brain injury. The homes are designed to allow their occupants to regain the freedom and independence they sacrificed in the defense of their country, and to enable them to focus on their family and recovery. Since its inception in 2004, Homes For Our Troops has built over 240 homes for veterans and their families.
"We are thrilled GovX has chosen HFOT as a recipient of its Mission Giveback donation program. We rely on contributions from donors, supporters, and corporate partners for the building of each veteran's home. The funds raised through this program will truly make a positive impact in the lives of injured veterans," said Bill Ivey, HFOT Executive Director.
"Homes For Our Troops was our Mission Giveback recipient at the end of 2015, and we couldn't be prouder to once again support their mission," says Alan Cole, GovX CEO. "Our previous donation helped contribute to a custom-built home for Sgt. Toran Gaal, and we're honored to support the next home for the next deserving veteran."
HFOT intends the homes they design and build as launchpads for their recipients to once again become highly productive members of society. Despite their life-altering injuries, many veterans who have benefited from assistance from HFOT have gone on to complete college degrees, start families, launch new careers, and more. Many still have embraced roles as motivational speakers, sharing their messages of persevering through tragedy with groups and classrooms nationwide, while others promote awareness of veteran suicide, mental health issues, and homelessness.
Over 70 percent of the budget for Homes For Our Troops is generated by private donations and community fundraisers, and nearly 90 cents of every dollar raised goes directly to program services for veterans.
Learn more about the individual veterans Homes For Our Troops has assisted by visiting their website.
If you're a severely injured veteran interested in learning more about Homes For Our Troops benefits, apply for assistance here.
About GovX:
GovX.com is for men and women of service. A members-only online destination for military, first responders, and government employees, the site offers thousands of products, tickets and experiences from hundreds of brands at members-only pricing. Members include active and veteran U.S. military, firefighters, law enforcement officers, federal agents, and personnel from related government agencies. For more information, visit GovX.com.