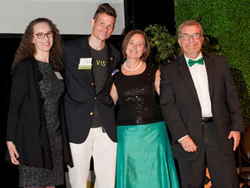 "Being recognized at the Green Awards Gala is a great compliment to SOL VISTA. Our success is growing thanks to the business community's interest in sustainable practices for their buildings."
BETHESDA, Md. (PRWEB) December 05, 2017
SOL VISTA®, a leading provider of data analytics for commercial building energy and water use, was honored at the Bethesda Green 8th Annual Green Awards Gala in Bethesda, MD on Oct. 12, 2017. The Gala honors and celebrates local businesses and organizations that contribute sustainable products, services, and ideas to the community and economy.
SOL VISTA continually innovates and enhances its software to provide the most valuable and effective services to commercial buildings across the U.S. The company is led by a team of sustainability experts with decades of experience in green business practices, and was a runner-up for the Gala's "Innovation Award for Small Business".
"I started my ecology club in high school, and I never thought that I would be able to make a career in the field but certainly I've been able to," said Shannon Sentman, SOL VISTA CEO and co-founder. "Being recognized at the Green Awards Gala is a great compliment to SOL VISTA. Our success is growing thanks to the business community's interest in sustainable practices for their buildings."
SOL VISTA's SaaS platform, Skywalk®, empowers commercial building owners, managers, and engineers to improve the performance and profitability of their buildings. The platform makes proactive management of utility costs and consumption straightforward by combining conventional and unconventional data aggregation, sophisticated analytics, and actionable insights and alerts.
SOL VISTA has reduced energy costs and usage for commercial buildings throughout the United States. To view a list of its customers, click here.