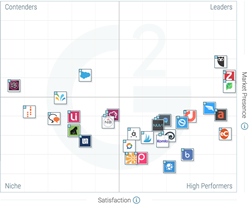 CHICAGO (PRWEB) November 30, 2017
G2 Crowd, the world's leading business software review platform, today released the Winter 2018 Social Media Suites Grid® report to help businesses make the best Social Media Suites technology buying decision. Hootsuite, Zoho Social, and Sprout Social were named Leaders in the report, receiving a strong customer satisfaction score with a large market presence.
AgoraPulse, Falcon.io, eClincher, Digimind Social, Sendible, CX Social, NUVI, Oktopost, Buzzlogix, Komfo, Tailwind, Audiense, Flockrush, Social Report, Plumlytics Social, and webZunder were named High Performers in the report, earning strong customer satisfaction marks with smaller market presence scores. Zoho Social and Sprout Social tied for the highest overall satisfaction score while Hootsuite earned the highest overall market presence score.
This report also breaks down the Social Media Suites category, based on market presence and customer satisfaction score, for Small-Business, Mid-Market, and Enterprise reviewers. At the small-business level, Zoho Social received the highest overall satisfaction score and Hootsuite earned the highest overall market presence score. In both the mid-market and enterprise segments, Sprout Social received the highest overall satisfaction score and Hootsuite earned the highest overall market presence score.
The Grid® leverages customer satisfaction data reported by authenticated users along with vendor market presence determined from social and public data. Based on a combination of these scores, each software solution is categorized as a Leader, High Performer, Contender or Niche.
Key Findings:

Want for more in-depth analytics — According to users, while some social media suites offered analytics capabilities, they weren't quite as granular or robust as users would have liked. A few limitations that users detailed in their reviews include: an inability to track the effectiveness of a campaign beyond number of mentions, a lack of additional data on influencers and followers, and a limitation on social media channel analysis. Some users were frustrated in inconsistency of analytics between those offered for free on various social media channels versus those pulled from the solutions. However, users did applaud those social media suites that provide consolidated reports or reports about daily/weekly/monthly social activity across multiple social media channels.
Not all social media channels are equal — Although social media suites are supposed to have the capability to manage, monitor, and analyze data and activity on a variety of social media accounts, users have realized that not all solutions support all social media channels. Users said they would benefit from tools that support non-western social media platforms like WeChat or Weibo. And for some users, they struggle with social media suites that don't offer equal support between platforms like Facebook and LinkedIn; users do recognize, though, that limitations they discover regarding posting or drawing insight may stem from those social media platforms' constantly changing algorithms, requirements, and other channel-specific quirks.
Flaws in mobile platform — Many users pointed out that the mobile applications of social media suites weren't quite up to par with their desktop versions. A few problems that users discovered when using the mobile app version are: constant crashing, slow load times, inability to schedule posts for a specific social media channel, and difficulties with login authentications. However, some social media suites don't even offer a mobile application yet — or if they do, it's iOS or Android only. Overall, users said that the solutions would be improved if the mobile versions were more reliable, particularly because users say that they are rapidly moving away from laptops and are more on-the-go than in-office.
About the Social Media Suites Grid® report:
The report is based on more than 4,782 reviews written by business professionals.
Of the 48 products listed in G2 Crowd's Social Media Suites category, the ranked products each received ten or more reviews to qualify for inclusion on the Grid®.
About G2 Crowd, Inc.
G2 Crowd, the world's leading business solution review platform, leverages more than 275,000 user reviews to drive better purchasing decisions. Business professionals, buyers, investors, and analysts use the site to compare and select the best software and services based on peer reviews and synthesized social data. Every month, nearly one million people visit G2 Crowd's site to gain unique insights. Co-founded by the founder and former executives of SaaS leaders like BigMachines (acquired by Oracle) and SteelBrick (acquired by Salesforce) and backed by more than $45 million in capital, G2 Crowd aims to bring authenticity and transparency to the business marketplace. For more information, go to G2Crowd.com.