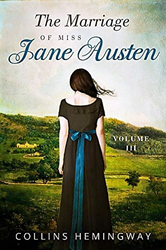 PORTLAND, Ore. (PRWEB) November 30, 2017
The final volume in "The Marriage of Miss Jane Austen trilogy," an audacious interpretation of the "missing years" of Austens' mid-twenties, is now available to order.
The series resolves the mystery of Austen's life before she devoted herself fulltime to her writing: Why the enduring rumors of a lost love or tragic affair? Why, afterward, did the vivacious Jane prematurely put on the "garb of middle age" and retire to write her books? Why, upon her death, did her beloved sister destroy her letters and any journals from this period?
In the moving conclusion to "The Marriage of Miss Jane Austen," Austen and her husband struggle with the serious illness of their son, confront a bitter relationship with the aristocratic family who were once their friends, and face the horrific prospect of war when the British Army falters on the continent. The momentous events of the Napoleonic wars and the agonizing trials of their personal lives take the family to a decision that will decide their fate—and her future—once and for all.
Critics and readers alike have praised the trilogy for its close inner portrait of Austen as well as for the sweeping canvas it presents of the Regency Era and Napoleonic wars. This trilogy spans the full arc of a mature relationship. Volume I is a non-Austenian courtship novel told with Austenian charm. Volume II is a deep psychological portrait of a woman's first year of marriage. Volume III is the climax in which Austen must face the most difficult moral decisions that any person can face. Using Austen's life as a basis, the series provides a thoughtful, in-depth look at life for women in the early 1800s.
Volume III of "The Marriage of Miss Jane Austen Trilogy" can be ordered from Amazon and Jane Austen Books at:
https://www.amazon.com/dp/B07763B182/ref=sr_1_2?s=digital-text&ie=UTF8&qid=1509931352&sr=1-2&keywords=the+marriage+of+miss+jane+austen.
https://www.janeaustenbooks.net/products/16592
For more information about The Marriage of Miss Jane Austen, visit http://www.austenmarriage.com. To "Like" our Facebook page, please do so here: http://www.facebook.com/pages/The-Marriage-of-Miss-Jane-Austen/364335963764558.