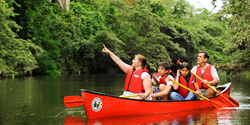 They truly are gifts that keep on giving
SAN IGNACIO, Belize (PRWEB) December 05, 2017
Still looking for that ideal Christmas present? For a gift of environmentally friendly luxury, sumptuous dining, extreme pampering, and healthy activities, The Lodge at Chaa Creek's public relations officer suggests that their 2017 Belize Vacation Gift Cards may be just the thing.
"The Lodge at Chaa Creek's 2017 Christmas Gift Cards make shopping for the ultimate Christmas gift a breeze, and, more importantly, they send a message that you deeply care about someone and share a desire to protect the environment and support small villages and communities in tourism destinations like Belize," Denise Duran said.
"With once-in-a-lifetime experiences and fond memories they'll have forever, you're also giving those you care about a gift that will keep on giving for the rest of their lives," she added.
And more good news, Ms Duran said, is that a Chaa Creek Belize Vacation Gift Card needn't cost more than many other presents.
"Compared to jewellery, fine watches and other more conventional Christmas presents, a Chaa Creek Vacation Gift Card is surprisingly affordable, and the experience is priceless," she said.
Chaa Creek Belize Vacation Gift Cards can be tailored to fit the recipient or recipients, and are suitable for all ages, interests and levels of fitness.
"We had couples giving them to each other, grandparents giving them to grandchildren, children to parents and grandparents, best friends wishing to share something special...the list is as extensive as the vacations we offer.
"That's another attraction of our Belize Vacation Christmas Presents – they are gifts that can be shared, so in a very real sense you're giving a part of yourself along with a very special acknowledgement of your relationship," Ms Duran explained.
Chaa Creek's Belize Vacation Christmas Gift Cards are available for stays and vacations ranging from overnight to three, five or weeklong all-inclusive Belize vacation packages, Ms Duran explained, allowing people to pick from the popular Belizean eco-resort's extensive selection of vacation packages, tours and expeditions.
"By selecting now, people can be better assured of booking the dates they want, which is important if they are meant to coincide with specific events, dates, or the giver's own plans to join them."
"Then again, some people prefer to give them with open-ended dates to allow the recipients to choose when they wish to enjoy their gifts. However, to allow for considerations such as high season availability, contacting us as soon as possible is still the best option," she explained.
The most popular gift options, she said, are from Chaa Creek's extensive menu of all-inclusive Belize vacation packages.
"Our all-inclusive packages are without a doubt the most affordable, carefree way to enjoy a complete Belize holiday. With everything from accommodations, all meals, activities and access to all amenities within our 400-acre private nature reserve, as well as transfers and even staff gratuities covered for one set price, there are no hidden charges or credit card surprises when people return home. From the moment we pick guests up at Belize's international airport to dropping them back, with a complimentary stop at the Belize Zoo while inbound or outbound, they are completely looked after, " Ms Duran said.
Known throughout the travel industry as Belize's "Destination Within a Destination", The Lodge at Chaa Creek is one of the country's oldest and most highly awarded eco-resorts. Onsite amenities include the Mariposa restaurant and Jungle Lounge featuring farm-to-table dining sourced from their traditional Maya organic farm and seafood from Belize's Caribbean seacoast, an infinity pool, the full service Hilltop Spa, Belize Natural History museum, live butterfly breeding facility and more.
Activities include horseback and guided and self-guided nature and birding walks along miles of well-maintained trails crisscrossing a 400-acre private nature reserve containing some 70 ancient Maya archaeological sites. Canoeing and tubing down the Macal River are popular, and river excursions and jungle safaris are offered, Ms Duran said.
For those wishing to go further afield, Chaa Creek is also Belize's preeminent DMC, or destination management company, offering a wide range of cultural tours and expeditions including "Rainforest to Reef" options that, along with partner resorts along the Belize Great Barrier Reef, cayes and seacoast, allow visitors to combine a true jungle lodge vacation with a Caribbean beach holiday, she added.
"This year we're also offering high-end luxury packages that, for instance, include a stay at our luxurious Ix Chel Rainforest Villas before embarking on a cruise aboard a fully crewed and serviced 50' catamaran along the reef, atolls and islands of Belize's Caribbean coast," Ms Duran said.
"A Chaa Creek Belize Vacation Christmas present will appeal to almost anyone. We're a family owned and operated business with a large Belizean staff offering friendly, personalised service. And the fact that we've been here so long and have developed an extensive infrastructure and nationwide network of colleagues means that our Belize vacation packages are both comprehensive and surprisingly affordable.
"Another advantage is that you're also giving something special to the land and people of Belize. With ten percent of all room revenue going directly into environmental and community assistance projects under of "Chaa Creek Cares" initiative, your gift extends far and wide," Ms Duran said.
Chaa Creek Belize Vacation Christmas Gifts come with personalised cards that may be delivered traditionally, or emailed as personalised e-cards, and will include invitations for the recipient to contact Chaa Creek directly to learn more and advise the vacation planning teams of any special requests, and Ms Duran encouraged people to contact their travel agents, or the jungle lodge's vacation planning teams directly to learn more.
"It's been said that when people look back over their lives, they tend to value the experiences they've had more than the material goods they acquired. Time spent with loved ones, or surrounded by natural beauty, sharing experiences or learning new things becomes more valuable over time, and these are just some of the things that make our Belize Christmas Vacation Gifts so ideal. They truly are gifts that keep on giving," Ms Duran said.
The Lodge at Chaa Creek is a multi-award winning eco resort set within a 400-acre private nature reserve along the banks of the Macal River in Belize. It was recognised by National Geographic with first place honours at the 2017 World Legacy Awards held in Berlin.
ENDS