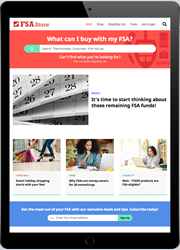 "Now, FSA users have everything at their fingertips to end 2017 on a high note and plan wisely for 2018."
NEW YORK (PRWEB) December 04, 2017
With the goal to make Flexible Spending Accounts easier to understand and use, FSAstore.com has launched a new, more robust Learning Center (http://www.FSAstore.com/learn) for the nearly 30 million Americans enrolled in the tax-free healthcare account.
The launch of the new FSAstore.com Learning Center coincides with one of the busiest times of year for FSA users: the December 31 "use-it-or-lose-it" deadline. This is one of the biggest shopping days of the year for FSA account holders who often find themselves with unspent funds at the end of the year. On 12/31/16 alone, FSAstore.com saw an 89 percent increase over its daily pageview average.
FSAstore.com opened shop in 2010 to address longtime FSA consumer frustrations like forfeited balances, unclear eligibility requirements and limited locations to spend with an FSA card. The site solves those issues by combining educational resources with the web's largest selection of guaranteed FSA-eligible products to act as a one-stop shop for FSA account holders.
Ahead of the end-of-year deadline, account holders can shop more than 4,000 qualified items as an easy way to spend down their remaining FSA balances.
Adding educational tools like the new FSA Learning Center is core to the company's mission to make it easy for account holders to plan, manage and use their FSAs so they don't lose their hard-earned money.
Learn to benefit from your benefits with the new FSA Learning Center
The new FSAstore.com/learn supports every step of the healthcare shopping journey, while teaching consumers about the tax-saving potential of FSAs, how to maximize the value of their accounts and boost their overall wellness year-round.
"FSAstore is committed to make it easier for Americans to maximize their FSAs and save money throughout the year. Our new Learning Center expands on the educational resources we've created for FSA users since we founded FSAstore.com seven years ago," said Jeremy Miller, founder and CEO of FSAstore.com/HSAstore.com. "We've created a completely new, education experience that helps account holders find the information they need from product eligibility and account management tips to in-depth coverage about yearly open enrollment and general wellness information. Now, FSA users have everything at their fingertips to end 2017 on a high note and plan wisely for 2018."
Unfortunately, while more employees than ever have access to these FSAs, a crisis of confusion still lingers. In fact, a 2014 survey conducted by Aflac found that 22 percent of employees are "not very" or "not at all" knowledgeable about FSAs (TheStreet, 2015). The new FSAstore.com Learning Center addresses this situation by providing quick and easy answers for account holders as they are making important decisions about their future healthcare benefits.
FSAs are employer-sponsored accounts that have existed for decades. FSAs provide tax benefits by allowing individuals to fund their accounts with pre-tax income, while using these dollars to pay for qualifying medical products and services. However, FSAs can have a "use-it-or-lose-it" feature where any money that is left in the account at the end of the plan year is forfeited back to the employer.
FSAstore.com operates a companion website, HSAstore.com, which specializes in health savings account (HSA) eligible products. A new Learning Center experience is also available on HSAstore.com for the 21 million HSA users nationwide.
About FSAstore.com/HSAstore.com
FSAstore.com/HSAstore.com was founded to make it simple and convenient to spend, manage, and use an FSA or HSA. FSAstore.com/HSAstore.com is the only e-commerce site stocked exclusively with FSA/HSA eligible products, eliminating any and all guesswork as to what is and is not FSA/HSA eligible. In addition to the 4,000 eligible products available, the site offers educational resources for FSA/HSA holders, including the most comprehensive Eligibility List in the industry and a Learning Center with answers to the most common FSA/HSA questions. FSAstore.com/HSAstore.com accepts all FSA/HSA and major credit cards, offers 24/7 customer service, two-day turnaround for all orders and free shipping on orders $50+ in the continental U.S.