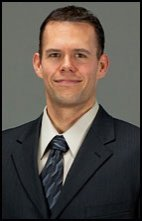 Durham, NC (PRWEB) December 05, 2017
After serving as the Vice President of Human Resources and Marketing, the Law Offices of James Scott Farrin has elevated David Chamberlin to the role of Vice President of the law firm. Chamberlin replaces Eric Sanchez who recently left to join legal technology start up, GrowPath.
As the firm's new Vice President, Chamberlin will serve in an advisory and support capacity to firm President and Chief Executive Officer, James S. Farrin as well as the firm's shareholders. In addition to his primary areas of marketing and human resources, Chamberlin will now oversee the operations and administration of the firm.
"I am honored to take on this new role and further contribute to the positive impact James Scott Farrin has made on the lives of so many clients over the last 20 years. We have a very talented team and I am excited about the work we are doing today and will be doing in the future," Chamberlin said.
Chamberlin has been with the firm for over a decade having overseen the firm's vast marketing initiatives and human resource department. During his tenure the firm has expanded its brand from the Raleigh-Durham television market to a statewide presence. He has developed and executed both short- and long-range strategic plans and budgets to guide an extensive network of media channels, as well as client relations management initiatives.
"David has been integral to our marketing success for over ten years. I fully believe he will help make our firm even more successful as he takes on other responsibilities," said firm Founder and President James S. Farrin.
Chamberlin holds a Bachelor of Science degree in Health Administration from Ithaca College and a Master of Business Administration from Regis University.
ABOUT THE LAW OFFICES OF JAMES SCOTT FARRIN
The Law Offices of James Scott Farrin is headquartered in the American Tobacco Historic District, adjacent to the Durham Bulls Athletic Park, in Durham, North Carolina, with 13 additional offices statewide in Charlotte, Fayetteville, Greensboro, Greenville, Goldsboro, Henderson, New Bern, Raleigh, Roanoke Rapids, Rocky Mount, Sanford, Wilson, and Winston-Salem. The firm's 45 attorneys focus on the following practice areas: Personal Injury, Workers' Compensation, Social Security Disability, Eminent Domain, Intellectual Property, Civil Rights, Mass Torts, and Products Liability. Seven of the attorneys are North Carolina Board Certified Specialists in Workers' Compensation Law and one is a North Carolina Board Certified Specialist in Social Security Disability Law. The Law Offices of James Scott Farrin is involved in the community, including sponsorship of local philanthropic organizations.
Contact Information:
David Chamberlin | 280 S. Mangum Street, Suite 400 | Durham, NC 27701 | 866-900-7078 | http://www.farrin.com