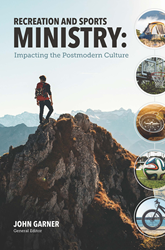 Lynchburg, Va. (PRWEB) December 02, 2017
Liberty University Press recently released the second edition of "Recreation and Sports Ministry: Impacting the Postmodern Culture," which includes several new chapters and appendices as well as updated language and statistics that speak to a new generation of leaders. General Editor and author John Garner, along with several accomplished contributing authors, explain how recreation and sports offer the church one of the best avenues to impact a leisure-oriented culture and the methods for using them as ministry tools.
Book topics include the history of church recreation, ethics, discipleship, organizational principles, and appendices of essential documents for sports and recreation programs. With many years of experience as a speaker, lecturer, and professor in sports ministry, and the national sports ministry leader at LifeWay Christian Resources for over 18 years, Garner has crafted a one-of-a-kind resource that is a must-have for all recreation ministry leaders.
When asked about the book, Oklahoma Baptist University professor Chad Payn said, "It should be mandatory reading for anyone using sports and recreation to spread the Gospel. This comprehensive history and analysis of recreation ministry provide the reader with insight into the theological underpinnings, modern trends, and cultural implications. 'Recreation and Sports Ministry' is exactly the tool needed to motivate those with years of experience and to train the next generation to intentionally use recreation and sports to glorify God."
"Recreation and Sports Ministry: Impacting the Postmodern Culture" is available through Amazon and Barnes & Noble.
ABOUT LIBERTY UNIVERSITY: Liberty University, founded in 1971, is the largest private, nonprofit university in the nation and the largest university in Virginia. Located near the Blue Ridge Mountains on more than 7,000 acres in Lynchburg, Va., Liberty offers more than 550 unique programs of study from the certificate to the doctoral level. More than 250 programs are offered online. Liberty's mission is to train Champions for Christ with the values, knowledge, and skills essential for impacting tomorrow's world.