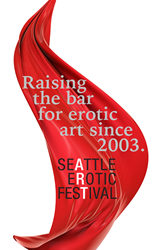 SEAF supports artists with low submission fees, a competitive commission rate, and high exhibition sales.
SEATTLE (PRWEB) December 02, 2017
The Seattle Erotic Art Festival (SEAF) is now accepting entries for its 16th annual event to be held April 27-29, 2018 in Seattle Center.
SEAF has assembled an exciting jury from extremely diverse backgrounds, who all share a love and enthusiasm for erotic art. SEAF is an internationally-recognized celebration of erotic art and performance unlike any other festival or gallery you've ever experienced. The three-day event will feature paintings, photography, ceramics, sculpture, mixed media, multi-media, illustrations, drawing, and any other medium of art that an artist uses to depict eroticism. SEAF proudly celebrates and promotes freedom of sexuality, speech and creativity through the erotic expression of fine art, in a glorious variety of forms.
"Our mission is to encourage the creation, enjoyment, and purchase of erotic art," says Executive Director Sophia Iannicelli. "By focusing on sales, I am creating a market for their art that will one day penetrate the mainstream art galleries." SEAF sells an average of 28% of the exhibition works, on top of a very busy museum grade Festival Store for merchandise and smaller works of art.
Artists interested in submitting their work to the Festival can learn more about SEAF's submission policies and jury processes here: https://www.seattleerotic.org/artists/. Artists do not need to attend the Festival to be accepted.
For artists that register and pay their submission fee before December 15, 2017, there is an "early bird" fee of $16. This is a substantial discount off of the standard $35 submission fee that will go in effect 12:01am on December 16, 2017. Submissions can be added and edited until the call for art closes. All submission must be finalized and completed by 11PM PST on January 15, 2018.
SEAF is also accepting Literary Art, Installation Art, Store Merchandise and Art, Stage Performance Art, and Interactive Performance art though January 15, 2018. More information can be found on our website.[https://www.seattleerotic.org/artists/fees-and-deadlines/
About Seattle Erotic Art Festival (SEAF)
SEAF has been elevating erotic art since its first showing in 2003. SEAF encourages the creation, enjoyment, and purchase of erotic art–sparking conversations to ignite personal and cultural evolutions.
About Foundation for Sex Positive Culture (FSPC)
FSPC's mission is to promote personal and cultural acceptance of consensual sexuality through education and the arts. It offers consent-based workshops, regular monthly events, artistic events, social and support groups – all in a safe, welcoming space.