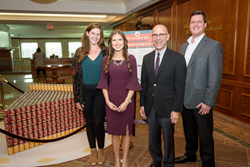 LINCOLN, R.I. (PRWEB) December 04, 2017
Amica Insurance collected 20,309 canned food items during its Giving Thanks Giving Back food drive, which ran from Friday, Nov. 3, through Friday, Nov. 17, at its corporate headquarters. Those items were donated to the Rhode Island Community Food Bank to support families in need this holiday season.
"I continue to be amazed by the generosity of our employees," said Robert A. DiMuccio, chairman, president and CEO of Amica. "I sincerely thank them for their involvement and enthusiasm during this food drive, as they're making a big difference for so many Rhode Island families."
"Once again, Amica employees demonstrated their holiday spirit and support for the local community by collecting an astounding amount of food for the Rhode Island Community Food Bank," said Andrew Schiff, CEO of the Food Bank. "We are truly overwhelmed by the incredible response this year and so pleased to be part of this annual tradition."
Amica kicked off the food drive in conjunction with its annual Thanksgiving card unveiling on Nov. 3. Each of the four buildings at Amica's headquarters was assigned a canned food item, and the buildings competed to see who could donate the most items over a two-week period. Building 25, which is home to Amica's corporate services and corporate information systems departments, won the competition by collecting 5,493 items.
Amica also partnered with Canstruction® Rhode Island to build a piece of pumpkin pie out of approximately 2,000 of the canned food items.
About Amica Insurance
Amica Mutual Insurance Co., the nation's oldest mutual insurer of automobiles, was founded in 1907. The company, based in Lincoln, Rhode Island, is a national writer of auto, home, marine and umbrella insurance. Life coverage is available through Amica Life Insurance Company, a wholly owned subsidiary. Amica employs more than 3,800 people in 44 offices across the country. For more information, visit Amica.com.
Media inquiries can be sent to MediaCenter(at)amica(dot)com.
Twitter: Amica
Facebook: Amica Mutual Insurance Co.