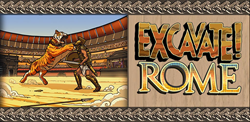 We are studying different civilizations this year and it's a FANTASTIC resource to help them make connections." 5th Grade Computer and Gifted, FL, USA
BETHESDA, Md. (PRWEB) December 06, 2017
DIG-IT! Games, a mission-based, independent developer of award-winning interactive learning tools is pleased to announce an update and expansion of the Excavate! series. Existing civilizations Egypt, Mesopotamia and MesoAmerica have been updated with additional content and C3-aligned gameplay for an enriched overall learning experience. New civilizations include Rome, Greece and Byzantine. Available on multiple platforms for desktops, tablets and phones, these games are designed by former middle school teacher and DIG-IT! Games CEO, Suzi Wilczynski, to take kids on archaeological adventures through time and around the world, that are both entertaining and educational.
Using archaeologists' tools, players will uncover real artifacts from ancient cultures. The game gets players immediately in the dirt evaluating the proper tool to use while learning about the scientific process of excavation. Players are exposed to concepts such as stratigraphy, context and the importance of proper recording. Analysis then takes center stage as players learn about the significance of the artifacts they collect and the processes involved in gaining a deeper understanding of ancient people through material culture. Each civilization includes 3D artifacts and detailed illustrations of ancient life to immerse the user in the ancient culture.
The series has also been expanded to include Excavate! playing cards for classroom and family fun. Each card deck includes People, Places and Artifacts cards that complement the video game or can be played separately. This is a perfect way to get the conversation going without screen time. An excellent gift option for your child, grandchild or a favorite teacher to introduce the ancient cultures. Game decks are available for the Rome and Egypt civilizations. Standard game play is for 3 to 5 players ages 9 and above.
"We are pleased to be adding three new world history civilizations to this popular series and updating the content to align to C3 standards to make a more effective teaching tool" says Wilczynski. "Excavate™ provides a high-quality resource for educators across their full World History Curriculum and the new card decks add an additional option for cultural game play, creating a complete multi-media game experience for the middle-school classroom.
Each civilization is a stand-alone game focused on a specific culture and time period. These "chapters" will have players exercising their inquiry and deductive reasoning skills as they explore cultures long past and more recent at sites ranging from the Bronze Age to the Americas. The EXCAVATE! series gives players insight into the full spectrum of human history across the globe.
These educational games are suitable for grades 3-8 and correlate to Common Core State Standards (and equivalents) for ELA and The National Council for Social Studies C3 Framework. The game includes the new educational game/app learning analytics standard GBLxAPI, which is improving learning data reporting in educational games and applications. The video games are supported on most recent browsers and are available as apps on the App Store, Google Play and Amazon App store for the first time. All current and future versions now include HTML5, iOS and Android versions. They are available immediately at the Dig-it! Games website store and the respective app stores. Bulk purchase discounts are available. Learn more about how this game can become part of your world history lesson plans by joining our teacher network where you can review the game for free.
About DIG-IT! Games: Dig-It! Games is an award-winning, mission-based game development studio dedicated to creating games that encourage kids to explore the world around them. Founded by professional archaeologist and former middle-school teacher, Suzi Wilczynski, Dig-It! Games develops educational tools that promote critical thinking, independent learning and cultural understanding. All games incorporate age-appropriate content in math, science, social studies and language arts into fun interactive and engaging learning experiences. Learn more at DIG-IT! Games http://www.dig-itgames.com Social Channels: Twitter: @digitgames, Facebook: http://www.facebook.com/DigitGames