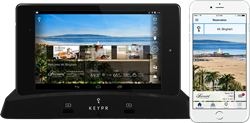 "We pride ourselves on providing a luxury experience and as our guest demographics diversify, we must find ways to cater to growing technological needs while maintaining the service we are known for. KEYPR addresses all of those needs in one neat package."
LOS ANGELES (PRWEB) December 05, 2017
KEYPR®, the leading cloud-based technology platform for the hospitality industry providing an integrated end-to-end experience for guests and staff through embedded and mobile devices, announced today that Fairmont Miramar Hotel & Bungalows has deployed its expansive hospitality platform.
"We pride ourselves on providing a luxury experience that is efficient and unobtrusive, and as our guest demographics diversify, we must find ways to cater to growing technological needs while maintaining the service we are known for," said Matthew Lehman, Fairmont Miramar's General Manager. "KEYPR addresses all of those needs in one neat package."
Through the KEYPR platform, Fairmont Miramar guests and staff have access to a custom mobile app, in-room tablets and Guest Experience Management System (GEMS®) which combined will dramatically improve operational efficiency, open up new revenue streams, and meet the expectations of today's connected traveler. In Q1 2018, the hotel will deploy KEYPR's keyless entry system.
In addition to a seamless PMS integration, KEYPR has partnered with Royal Service, a Fairmont Raffles Hotels International technology solution that manages hotel operations around guest services for Fairmont properties. KEYPR's integration with Royal Service allows guests to request specific activity items i.e. extra towels or room service through their in-room tablets and mobile guest applications. Hotel staff will be able to customize and efficiently manage the completion of these activities from their Royal Service dashboard as well as notify the guest when their request has been completed.
"We are thrilled to launch at the Fairmont Miramar, our first Fairmont property," said KEYPR CEO Robert Stevenson. "With its multiple amenities and iconic stature, the Fairmont is perfectly poised to benefit from the broadest guest experience platform on the market today."
About KEYPR
KEYPR® is a cloud-based guest experience and management platform for hotels, casinos and residential properties. The platform delivers a friction-free personalized guest experience, while creating new operational efficiencies and driving additional revenue opportunities for property owners. Guests can access a directory of services, including dining, entertainment, third-party content and more through an in-room tablet and custom mobile app. The app also allows guests to bypass the front desk via keyless entry. Additionally, owners and managers gain valuable insight through the integrated dashboard (GEMS®) and intuitive tools that provide visibility into guest needs before, during and after their stay -- all while easily monitoring operational KPIs across multiple properties. For further information, visit: http://www.keypr.com.
CONTACT
Megan Pope
Director of Marketing, KEYPR
megan(at)keypr.com
844-456-3977