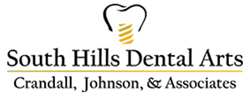 UPPER ST. CLAIR, Pa. (PRWEB) December 07, 2017
New patients in need of dental crowns in Upper St. Clair, PA or the Pittsburgh, PA areas, are now welcome to visit Drs. Steven Crandall, Karen Johnson and Kathy Lopez for CEREC® same-day crowns, with or without a referral. CEREC crowns are frequently used to restore dental implants, support weak teeth and complete root canal treatments.
Dental crowns are frequently used to restore dental implants, which are long-term tooth replacements that are placed in the patient's jawbone. Dr.s Crandall, Johnson and Lopez offer CEREC dental crowns in Upper St. Clair, PA, which are custom tooth restorations that can be created in-office. Due to the speed with which crowns can be created with CEREC technology, patients who visit South Hills Dental Arts for treatment do not need to be inconvenienced by wearing temporary crowns. Instead, they can be fitted with comfortable, natural-looking crowns that are color-matched to their surrounding teeth in a single treatment appointment.
According to the National Institute of Dental and Craniofacial Research, approximately 92 percent of adults between the ages of 20 and 64 have had cavities in their permanent teeth. While dental caries can often be treated by drilling out the decayed portion of the tooth and filling it in with hardened, sterile material, in some cases the decay is so severe that a root canal must be performed and restored with a dental crown on top of the tooth. In situations like this, the crown restores the structure of the tooth and provides it with strength and protection. Crowns used for root canal restoration can be created using CEREC technology so that the tooth can be restored the very day root canal treatment is performed.
Drs. Crandall, Johnson and Lopez encourage patients to experience the convenience and accuracy of CEREC dental crowns in Upper St. Clair and Pittsburgh. Those who need to have their dental implants restored or who need dental crowns for any other reason are invited to call 412-833-6166 for the Upper St. Clair office or 412-922-9292 for the Pittsburgh practice to schedule an appointment.
About the Practice
South Hills Dental Arts offers individualized dental care to patients in the Upper St. Clair, PA and Pittsburgh, PA areas. Dr. Steven Crandall, Dr. Karen Johnson and Dr. Kathy Lopez offer experienced dental implant, TMJ, and Invisalign® treatments along with a wide variety of other services at their two office locations. The entire team at South Hills Dental Arts, understand the importance of learning the most cutting-edge treatment techniques to ensure each patient receives effective and comfortable treatment. To learn more about Dr. Crandall, Dr. Johnson and Dr. Lopez or the services they offer, please visit their website at http://www.southhillsdentalarts.com. To schedule an appointment at their Upper St. Clair office call 412-833-6166 or 412-922-9292 for the Ingram Crafton office location in Pittsburgh, PA.