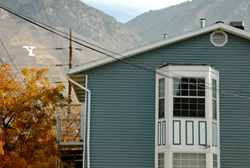 With more and more students and families coming to Silicon Slopes for education and work, there's never been a greater need for affordable housing options.
PROVO, Utah (PRWEB) December 05, 2017
Nelson Brothers, recently ranked No. 4 in real estate and No. 129 on the 36th annual Inc. 500, has acquired land in Utah County, where there is a housing shortage, with plans for new student housing projects near Utah Valley University and Brigham Young University, as well as a mixed-use residential facility in Lehi.
"With more and more students and families coming to Silicon Slopes for education and work, there's never been a greater need for affordable housing options," said Patrick Nelson, CEO of Nelson Brothers. Nelson Brothers Professional Real Estate currently owns and manages 10 student housing communities in Utah, including University Gateway and University Towers at UVU and 9 and 9 and Park Plaza at BYU.
The multi-state firm based in Provo, Utah, and headquartered in Aliso Viejo, California, is developing University Downs, a new student housing facility on six acres west of I-15 in Orem to serve UVU, the state's largest university. This 1,200-bed facility will be comprised of one 10-story student housing tower with two adjacent six-story buildings, one of which will be dedicated exclusively to married couples, as well as a 10-story parking structure. University Downs will follow the shared student living quarters model with the exception of the tower for married couples, which will offer units that can accommodate a couple and small children. This facility will feature the resort-style amenities for which Nelson Brothers is known, including a full NCAA basketball court, indoor volleyball court, cinema room, soccer turf field, two pools, three hot tubs, bowling lanes and sand volleyball courts.
Nelson Brothers Construction has also announced plans to raze and rebuild the existing 9 and 9 student housing facility in Provo, within two minutes' walking distance of BYU, in Spring 2018. It will also be updating amenities at the Park Plaza Apartments, across the street to the northeast of 9 and 9 in 2018.
Additionally, Nelson Brothers has announced the acquisition of 13 acres of land in Lehi, with plans to develop a mixed-use hotel, residential and retail facility.
Nelson Brothers' recent announcements and Inc. 500 ranking reflect the company's ongoing nationwide expansion trend, in which it's realized a three-year sales growth of 3,111 percent for a total of $25.5 million in revenue. Thus far in 2017, the company has completed deals on eight properties with a combined value of $189 million. In 2016, Nelson Brothers closed on 10 properties, with $136 million in acquisitions. Overall, Nelson Brothers has grown the value of its portfolio more than 275 percent in the past two years alone.
"Being ranked among some of the finest companies in today's economy is an incredible honor," said Nelson, who studied business at BYU and received an MBA in entrepreneurship from Utah State University. "To even be considered for the Inc. 500, a company must show a minimum growth of 10-fold over the past three years."
Since its inception in 2007, Nelson Brothers has acquired and managed over $800 million in assets through the acquisition of 35 student housing properties and three assisted living properties across 14 states.
For more information about Nelson Brothers, visit http://www.nelson-brothers.com.
About Nelson Brothers
Nelson Brothers Professional Real Estate LLC offers individual investors direct ownership interests in institutional quality and professionally managed real estate. The company, founded by brothers Patrick Nelson and Brian Nelson, focuses on targeted growth opportunities and value-added investments for its clients through capital improvements, cost efficiency and revenue maximization. Its entities include Nelson Brothers Professional Real Estate LLC, Nelson Brothers Property Management Inc. and Nelson Brothers Construction Management LLC. Nelson Brothers Professional Real Estate specializes in the acquisition, financing and ownership of real-estate investments in the niche areas of student housing.