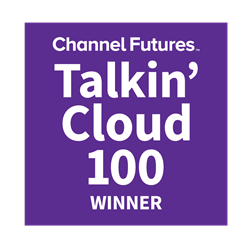 2017 has been a year of growth for Approyo and ranking #47 in the Channel Futures Talkin' Cloud Top 100 Cloud Service Providers list further confirms our success in the SAP and cloud industry
MILWAUKEE (PRWEB) December 06, 2017
Rising 34 positions from 2016, Approyo, a leading enterprise SAP Cloud Centric Solutions Provider, today announced its rank as number 47 on the Talkin' Cloud's Top 100 cloud services providers (CSPs) list, according to Channel Futures seventh-annual Talkin' Cloud (TC) 100 report.
The full report is available now by visiting ChannelFutures.com.
Based on data from Channel Futures' online survey, conducted between August to October 2017, the TC 100 list recognizes top cloud services providers (CSPs), including MSPs, hosting companies, cloud consultants and more. Rankings are based on annual cloud services revenue growth, and input from Channel Futures editors.
"We are honored to be recognized in the Channel Futures Talkin' Cloud Top 100 Cloud Service Providers list," said Christopher Carter, CEO of Approyo. "2017 has been a year of growth for us and this ranking further confirms our success in the SAP and cloud industry."
"On behalf of Channel Futures, I would like to congratulate Approyo for its recognition as a Talkin' Cloud 100 honoree," said Nicole Henderson, a contributing editor at Channel Futures who oversees the TC 100 project. "The organizations on this year's list demonstrate everything from technological prowess to thought leadership to business excellence across a number of functional disciplines. If you want to understand where the market is heading, watch these companies in 2018."
Approyo has been providing solutions powered by SAP HANA®, such as the latest version of SAP S/4HANA®, in the cloud for the last three years. Approyo built an entire platform using the best solutions in the market, helping companies move to SAP HANA quickly and benefit immediately.
About Approyo
Approyo offers products and services that include upgrades, comprehensive remote operations/managed services, consulting, hosting and implementations and cloud services. Approyo differentiates itself by offering scalable managed solutions built on SAP HANA for organizations of all sizes. Headquartered in Milwaukee, WI and offices in throughout North America, Europe and South America, plus partners around the world, Approyo has the capability to support global organizations and their applications.
For additional information e-mail us at info(at)Approyo(dot)com, call 404.448.1166, or visit us on the web at http://www.Approyo.com.
About Informa
The Channel Futures brand is part of Informa which operates at the heart of the Knowledge and Information Economy. It is a leading business intelligence, academic publishing, knowledge and events business. With more than 7,500 employees globally, it has a presence in all major geographies, including North America, South America, Asia, Europe, the Middle East and Africa. For additional information on Informa, visit http://www.Informa.com and for information on Channel Futures, visit http://www.ChannelFutures.com.
SAP, SAP HANA, SAP S/4HANA and other SAP products and services mentioned herein as well as their respective logos are trademarks or registered trademarks of SAP SE (or an SAP affiliate company) in Germany and other countries. See http://www.sap.com/corporate-en/legal/copyright/index.epx for additional trademark information and notices.
All other product and service names mentioned are the trademarks of their respective companies.