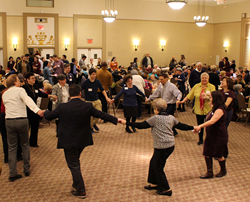 DOROT makes it feel like Thanksgiving every day!
NEW YORK (PRWEB) December 06, 2017
This year, DOROT was thrilled to serve over 600 older adults through its 36th annual Thanksgiving celebration. Through a two-part event, homebound seniors received hand delivered meals in the morning and more mobile seniors attended a festive holiday banquet in the afternoon. Over the course of the exciting day, volunteers of all ages ensured that seniors across the city could enjoy a Thanksgiving meal in good company.
In the morning, over 200 Meal Delivery volunteers spread out across the city, their hands full of hot Thanksgiving dinners and early Chanukah gifts. Along with delivering meals, volunteers stayed at the seniors' homes for about an hour. "I received a long and welcomed visit, the most edifying of the year!" shared one older adult visited by volunteers. "Thank you for sending great food and even better company. DOROT makes it feel like Thanksgiving every day!"
Not long after the Meal Delivery volunteers set out, Thanksgiving Banquet attendees arrived at Congregation Rodeph Sholom. After being greeted by another 100 volunteers, guests enjoyed catching up with friends. All were delighted to feel the warm embrace of the DOROT community.
Attendees enjoyed music performed by Kol Dorot, DOROT's senior chorus, and HaZamir, an international Jewish teen choir. Following the concert, a live klezmer band drew many of the older adults out of their chairs and on to the dancefloor. After joyous singing and dancing came the hot Thanksgiving meal.
Throughout the afternoon, guests had the honor of hearing from several notable attendees. Congressman Jerrold Nadler, New York City Comptroller Scott Stringer, City Council Member Helen Rosenthal, and Borough President Gale Brewer all shared their love of the Thanksgiving Banquet as well as their commitment to improving the lives of older New Yorkers. After visiting with a senior and serving a table at the Banquet, CEO of UJA-Federation of New York Eric Goldstein addressed the audience and explained the deep meaning of his longstanding ties with DOROT.
Said one senior, "I loved everything about the Thanksgiving Banquet–the people, the food–and did things I don't normally do, like dancing!" Added another, "The afternoon shined with the care and attention one always feels at DOROT."
About DOROT
DOROT is a social service agency dedicated to alleviating social isolation among older adults by providing services to help them live independently as valued members of the community. For more than four decades, DOROT has been an innovative leader in the fields of aging services and volunteerism.
DOROT's Thanksgiving Banquet is generously supported by The Jack and Pearl Resnick Foundation. DOROT acknowledges the generous donation of the Thanksgiving Banquet meal by the Jewish Lawyers Guild.
Our Thanksgiving Meal Delivery is generously supported by Bryna and Joshua Landes in loving memory of their uncle Marvin Sochet. The Thanksgiving Celebration is supported by Newman's Own Foundation. The Chanukah gift is generously funded by Samuel and Holly Merrin.