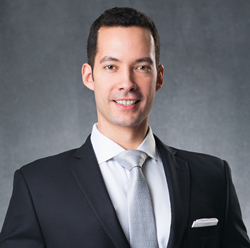 NASHVILLE, Tenn. (PRWEB) December 06, 2017
OnSomble's Board of Directors announced today that Enderson Miranda, previously President and Chief Operating Officer, has been named its Chief Executive Officer. Mr. Miranda follows Dr. Shawn Mathis who has served as OnSomble's CEO since its founding. Dr. Mathis will continue working closely with OnSomble focusing on his role as Founder and Director.
"As Founder of the company, I am pleased that Enderson Miranda has been chosen as the next chief executive of OnSomble. He is one of the most talented executives I have known in my 30-years as a senior leader of organizations. He has my full support as the baton of leadership is passed to him," stated Dr. Mathis.
While serving as OnSomble's President, Mr. Miranda engaged his knowledge of competency measurement, data analytics, evidence-based decision-making, evidence-based education, role-clarity, and learning management systems to help create the OnRole™ adaptive learning platform and ensure clients maximize the power of OnRole™ to enhance professional practice and improve patient outcomes. His passion for building strong client relationships and focusing on the customer's strategic goals will propel OnSomble forward as he leads a team focused on these same values.
"It is rare that an organization is able to make a seamless transition in senior leadership, but OnSomble is accomplishing that feat," according to Dr. Gene Harker, OnSomble's Chairman of the Board. "Enderson has worked alongside Shawn since his first day at OnSomble, driving product development and building client relationships, so he was the natural choice to lead OnSomble into the future."
Mr. Miranda is a healthcare executive with proven ability to maximize resources to achieve organizational strategic goals. He has numerous years of cross-functional management, talent development, and leadership experience, which include building and leading several teams and strategic channel partnerships. He earned an MBA from Vanderbilt University Owen School of Management and is currently a graduate student of Evidence-Based Healthcare at the University of Oxford, UK.
"I am honored to have been chosen as OnSomble's next CEO. This is an exciting time for our company. We have a fantastic team, exceptional partners, and extraordinary clients that are a joy to work with," stated Mr. Miranda. "I look forward to working closely with them as we continue to leverage our OnRole™ platform to deliver substantial value in the healthcare marketplace."
About OnSomble
OnSomble provides hospitals and healthcare organizations with a customizable online adaptive learning platform for professional development, continued education, and individualized learning opportunities. Our platform allows organizations to efficiently allocate evidence-based content and education resources, utilize key metrics and data analytics to pinpoint opportunities for development, identify internal leaders to empower their growth from within, create individual self-development dashboards that support employee engagement, and reduce variation in practice to optimize patient outcomes.