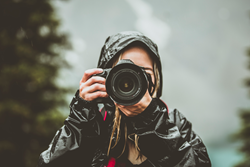 "Discover's proprietary Influencer Rating Score helps marketers identify influencers who organically align with their brand." -Seth Bridges, head of product and co-founder at Rival IQ
SEATTLE (PRWEB) December 06, 2017
Rival IQ, the leader in social marketing analytics and insights, today announced the launch of Discover, the latest addition to its popular solution for building a data-driven social media strategy. With this powerful tool, marketers can discover and engage with influencers and brand advocates to build rapport, trust, and credibility with their audiences.
According to Adweek, one of the main roadblocks to a successful influencer campaign is connecting with influencers. Seventy-five percent of those surveyed said identifying the right influencers was their most significant challenge. In 2017, 84% of marketing teams allocated resources toward influencer marketing strategies. With 71% of consumers stating that they're more likely to make a purchase based on a social media reference, that trend is expected to grow in 2018. Marketers need more tools like Rival IQ to easily discover and connect with influencers who genuinely align with their brands.
"Messaging from influencers is a significant part of modern-day word-of-mouth marketing," said Seth Bridges, head of product and co-founder at Rival IQ. "Today, marketing teams are building influencer relationships with industry thought leaders, bloggers, and micro-influencers who appeal to their target audience. Discover is a powerful tool in Rival IQ that enables marketers to identify influencers who are talking about any given topic, sharing content using a particular hashtag, and who are specifically sharing your content."
Using a proprietary Influencer Rating Score, the new Discover tool arms marketers with the ability to identify and evaluate influencers and brand advocates. Leveraging data about potential influencers, such as their followership, social post engagement rates, and the number of shares helps improve qualifying potential brand influencers and ambassadors that best align with your brand and audience. Marketers will be able to:
Identify and Evaluate Influencers – Discover and engage the right people who align with your brand based on the Rival IQ Influencer Rating.
Amplify Reach – Find related hashtags to expand reach and engagement.
Reveal New Curated Content Opportunities – Identify content sources and topics that are engaging audiences.
Marketers interested in learning about how to build an influencer strategy may register here for the webinar, "Essential Steps to Creating an Influencer Marketing Strategy - What every brand needs to know." Co-hosted by We Are Unicorns and Rival IQ, the webinar will take place on Wednesday, December 13th, at 10:00 AM Pacific / 1:00 PM Eastern.
Rival IQ delivers digital marketing analytics with a competitive and comparative context, equipping marketers with a toolkit for uncovering new opportunities, identifying trends, and tracking results across all the key social channels and the web. The insights revealed in the reports help set benchmarks, make data-driven decisions, improve results, and keep an eye on the competition.
Companies, brands, and marketing agencies realizing the power of connecting with influential social media users may visit http://www.rivaliq.com for a free trial of Rival IQ.
Contact: Danica Benson
Email: media(at)rivaliq(dot)com
About Rival IQ
Rival IQ's powerful software helps digital marketers boost performance, strengthen strategy, make more informed content decisions, and improve their social media engagement using Rival IQ's clear analytics and competitive insights. For more information, visit http://www.rivaliq.com, call +1.206.395.8572, or follow us on Twitter, LinkedIn, and Facebook.