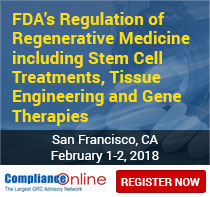 PALO ALTO, Calif. (PRWEB) December 07, 2017
ComplianceOnline, the leading governance, risk and compliance advisory network with over 500 experts in various regulatory subjects, today announced a seminar on FDA's Regulation of Regenerative Medicine including Stem Cell Treatments, Tissue Engineering and Gene Therapies. The two-day seminar led by Gwen Wise-Blackman will be held on February 1 and 2, 2018 in San Francisco, CA.
This training workshop will provide a historical context for the use of stem cells in medicine, where the field has been and where it is going.
For more information or to register for the seminar, please visit the event website:
http://www.complianceonline.com/fda-regulation-regenerative-medicine-stem-cell-tissue-engineering-gene-therapies-seminar-training-80340SEM-prdsm?channel=PRWEB_12072017
Speaker Gwen Wise-Blackman's career focus has been in High-Throughput Screening, Cell-Based Assay Method Development and Validation, and Quality Assurance. Gwen has a Bachelor of Science degree in biology from M.I.T and a PhD in Pharmacology from UVa. She is a member of ASQ and AAPS.
This two-day workshop will host discussions on fundamentals of stem cells and on how the FDA regulates regenerative treatments and therapies. The various sessions will also address drug and biological approval process, applicable good manufacturing and good laboratory practices, and FDA and other federal agency enforcement action. In addition, the course will provide the various examples of FDA approved use of stem cells in medicine and what is needed for the field to progress.
Dates:
Thursday, February 1, 2018 (8.30 AM- 4.30 PM) and Friday, February 1, 2018 (8.30 AM- 4.30 PM)
Location: San Francisco, CA
Registration Cost: $1,899.00 per registration
Early bird discounts: For discounts on early registrations, please click here.
Register by phone: Please call our customer service specialists at +1-888-717-2436 or email customercare(at)complianceonline.com
For more information on ComplianceOnline or to browse through our trainings, please visit our website.
About ComplianceOnline
ComplianceOnline is a leading provider of regulatory compliance trainings for companies and professionals in regulated industries. ComplianceOnline has successfully trained over 35,000 professionals from 9,000 companies to comply with the requirements of regulatory agencies. ComplianceOnline is headquartered in Palo Alto, California and can be reached at http://www.complianceonline.com. ComplianceOnline is a MetricStream portal. MetricStream (http://www.metricstream.com) is a market leader in Enterprise-wide Governance, Risk, Compliance (GRC) and Quality Management Solutions for global corporations.
For more information please contact:
A Reuben Bernard
Associate Director - ComplianceOnline
2600 E Bayshore Rd
Palo Alto CA USA 94303
Phone - +1-650-238-9656 | +1-888-717-2436
Fax - 650-362-2367
Mail: reuben(at)complianceonline.com
Website: http://www.complianceonline.com