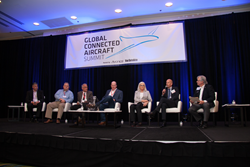 ROCKVILLE, Md. (PRWEB) December 06, 2017
The Global Connected Aircraft Summit provides airlines, operators, integrators, and technology vendors complete connected solutions – from ground to air and from nose to tail. The fifth annual event connects business, technology, and industry perspectives and goes beyond just in-flight entertainment, to include operations, communications and technologies that impact the aircraft.
This year's premier aerospace connectivity summit will be held June 4-6, 2018 at the Hilton San Diego Resort & Spa in San Diego, CA. For the first time ever, airline employees will be able to attend for free!
Due to the growing demand for connectivity content, this year's event will feature an exhibit hall, allowing for more interactive connectivity displays from sponsoring companies. The 2018 GCAS will also introduce a brand new 'Data & Security Day' on the third day of the summit this year, a day focused specifically on the collection, optimization, and security of big data in the aircraft.
Bringing together over 300 members of the aerospace community, GCAS provides a powerful relationship building and networking opportunity in an atmosphere dedicated to assessing early market lessons, potential demand, and best practices. For more information visit http://www.gcasummit.com/.
Early bird registration has officially opened. Don't miss your chance to lock in the 2017 rate before prices increase in 2018.
Flexible sponsorship opportunities are available. Please contact Joe Milroy at jgmilroy(at)accessintel(dot)com for more information.
About Via Satellite
For nearly 30 years, Via Satellite has provided essential news and expert business analysis on the global commercial communications satellite industry, including current and evolving applications, infrastructure issues, technology, and business and regulatory developments around the world. Top satellite executives from 160 countries read Via Satellite to fully understand the industry and maximize their companies' profits.
About Avionics
Avionics is the leading source for global aviation technology intelligence, covering the latest developments with the connected aircraft, NextGen, avionics innovation and global air traffic management modernization. More than a magazine, this is the platform for in-depth analysis on the global aircraft electronics market, used by top avionics executives, engineers, pilots and professionals throughout the value chain.