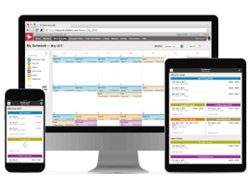 Aladtec has reduced the scheduling demands on our Command Staff by at least 30% on average.
RIVER FALLS, Wis. (PRWEB) December 06, 2017
Aladtec, Inc. announces they have surpassed 2,000 customers. Founded over a decade ago, this Wisconsin based company develops online employee scheduling and workforce management software for the Public Safety sector. Each year more organizations recognize the value of moving staff scheduling, and various office oriented tasks, online. Internet software reduces human error, improves efficiencies, saves time, and often saves money.
The company developed the software in 2002 to help a Wisconsin EMS agency move from an error prone, and inaccessible, paper schedule to an online schedule which would be available 24/7 from any computer with an Internet connection. That request launched a software system which is now a powerful tool for Public Safety agencies across North America.
Due to the company's continued growth, Aladtec has landed on Inc. magazine's prestigious annual ranking of the fastest-growing private companies in the United States for three years in a row. Only one in five businesses on the Inc 5000 list achieve the accolade of appearing on it three consecutive times.
Potential customers are encouraged to try an Aladtec free 14-day "try it" demo, or request a free customized demo configured to their particular requirements. Customers appreciate continuous free training, free technical support, and free upgrades.
Supporting Quotes:
"Our overtime has been cut by 50% since we started using Aladtec. Our overtime went from 4,000 hours last year to 2,000 this year. That is a huge financial savings for our agency."
-Anthony Tucci, Deputy Chief, Western Berks EMS, Reading, Pennsylvania.
"Aladtec has reduced the scheduling demands on our Command Staff by at least 30% on average. I am very pleased with Aladtec - it absolutely beats the competition."
-Donald C. Cudmore, Chief, Georgetown Police Department, Georgetown, Massachusetts
"We save between 60 and 90 hours a month. Probably half of that time is saved by not having to fill overtime slots by calling, texting or emailing. We can see when they last worked overtime, so we can quickly and easily choose who gets the OT shift. Now, we have almost gone completely paperless in our daily work...and, we are saving a lot of trees!"
-Chad Williams, Lieutenant, Woodstock Fire/Rescue District, Woodstock, Illinois
"Our Aladtec system saves me time and saves me many steps compared to my old way of scheduling - which was on paper. We've also found fewer errors in payroll since all hours are tracked within the system."
-Diane Morgan, Supervising PST, Gloucester County Emergency Response Center, Clayton, New Jersey
About Aladtec: The company proudly provides online employee scheduling and workforce management software to over 2,000 organizations, primarily within the Public Safety Sector. These customers count on Aladtec every day to help them save time and improve efficiency. Founded over a decade ago, Aladtec has been on the Inc5000 list of fastest growing companies in the US for the past three years in a row. For information about the affordable industry-specific software options, or to try a free demo, please visit http://www.aladtec.com.
CONTACT INFORMATION:
Aladtec, Inc.
387 Arrow Court
River Falls, WI 54022
(888) 749-5550 Toll-Free
(715) 690-2300 Phone
(801) 406-5550 Fax
mellissa@aladtec.com