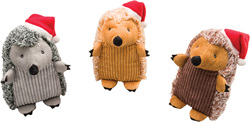 According to the 2017-2018 APPA National Pet Owners Survey, dog owners spend an average of $14 per gift and cat owners spend an average of $12 per gift for their pet.
GREENWICH, CT (PRWEB) December 07, 2017
Nearly one third of the country owns a pet, and those pet owners are estimated to spend nearly $70 billion on their pets by year's end. It's no surprise that we treat pets in America, like members of the family, which means including them on the holiday gift-giving. The American Pet Products Association (APPA) is pleased to offer pet owners great gifting options that won't break the bank this season. According to the 2017-2018 APPA National Pet Owners Survey, dog owners spend an average of $14 per gift and cat owners spend an average of $12 per gift for their pet. APPA has rounded up some great gifting options from their members with that pricing in mind, all under $20. See what's on the list for this year:
Treats and Sweets
Get everything all in one purchase this holiday season with the Holiday Gift Box by I and Love and You. This under-the-tree-ready gift box contains three bags of their most popular treats, an ugly sweater bandana, one coupon for $5 off a future purchase on iandloveandyou.com and five meals donated to Rescue Warriors Shelter.
Price: $19.99 plus free shipping
http://www.iandloveandyou.com
SuperGravy by Clear Conscience Pet allows all pets to enjoy their own holiday-style meal, specially formulated for their consumption. The grain-free and gluten-free food topper is made with digestive enzymes and active probiotics to help with digestion, perfect for the holidays.
Price: $14.95
http://www.clearconsciencepet.com
For cats on the nice list, reward them with Bench and Field Holistic Natural Feline Treats. Fortified with essential vitamins, minerals and probiotics these crunchy fish-shaped treats help with overall gut health. The Anchovy and Sardine flavors are packed with Omega-3 and 6 fatty acids and L-Carnitine to help rejuvenate skin and support a healthy heart for guilt-free treating.
Price: $14.98 for (2) 3 oz. bottles
http://www.benchandfield.com
Whisk & Wag dog treat mix is a fun and simple way to bake fresh, nutritions treats at home. Simply mix, mold, and bake for a batch of fresh treats available in Apple and Cinnamon, Honey and Oats, Herb and Cheddar and Sweet Potato and Spice.
Price: $11.75
http://www.whiskandwagtreats.com
For owners of a new puppy, a teething gift could be their holiday savior. Grain-Free N-Bone® Puppy Teething Rings by NPIC Pet are easy for floppy puppy paws to hold onto and provide a soothing and appropriate outlet for chewing. Formulated with DHA and calcium to support a puppy's unique nutritional needs, these chicken flavored rings are pliable and won't damage immature teeth.
Price: $11.59
http://www.npicpet.com
Playin' Around
Holidays plus Hedgehogs – yes please! Holiday Hedgehogs by Ethical Pet are cute and cuddly and sized just right for a stocking stuffer or under the tree. Designed with durable corduroy, shaggy plush and a floppy, red Santa hat these toys are a must-have this holiday season. Features a squeaker for added fun.
Price: $9.99
http://www.ethicalpet.com
For cats that love to play all-year long, the HyperNip™ Hide & Play by Petlinks® gives them the entertainment they've been looking for. The collapsible bed is reversible with a scratching surface on the outside that also features ribbon to play with. It also comes with two mice filled with
HyperNip, a unique mixture of catnip and Silvervine that is more potent than regular catnip, but as natural as can be.
Price: $12.99
http://www.petlinkssystem.com
Silent night…. Hear Doggy!™ Ultrasonic Dog Toys will keep the peace in your home during the holiday season. Using innovative squeaker technology, Hear Doggy!™ squeakers are tuned to a pitch outside the human hearing range leaving all the noisy fun to your furry companions and not your guests.
Price: $9.99- $14.99
http://www.hear-doggy.com
For dogs that enjoy snuggling by the fire, Pendleton Pet Bone Toys by Carolina Pet Company can be a great accessory during the holidays.
Dogs can leave the wool socks alone and grab this wool plush bone that features Pendleton Licensed Plaids with the iconic name embroidered on the front. They are available in 3 colors and in one size.
Price: $12.00
http://www.carolinapetcompany.com
For more information, product samples, images or interview opportunities, please contact Jamie Baxter at 775-322-4022 or Jamie(at)theimpetusagency(dot)com.
The American Pet Products Association (APPA) is the leading trade association serving the interests of the pet products industry since 1958.  APPA membership includes more than 1,200 pet product manufacturers, their representatives, importers and livestock suppliers representing both large corporations and growing business enterprises.  APPA's mission is to promote, develop and advance pet ownership and the pet product industry and to provide the services necessary to help its members prosper. APPA is also proud to grow and support the industry through the following initiatives: Pets Add Life (PAL), the Human Animal Bond Research Institute (HABRI), The Pet Leadership Council (PLC), the Pet Industry Joint Advisory Council (PIJAC), Bird Enjoyment and Advantage Koalition (BEAK), and the Pet Care Trust.  Visit http://www.americanpetproducts.org for more information.