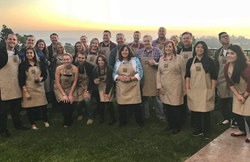 SAN DIEGO (PRWEB) December 07, 2017
A real estate development company, a video and broadband technology company, a software company and a local law firm are the latest businesses to participate in Lajollacooks4u's popular corporate team building events this holiday season.
Each group gathered for a festive and interactive evening, with guests first participating in Lajollacooks4u's signature olive oil competition to whet their palettes. Two to three teams were then formed (depending on the size of the group), and each assembled into their assigned stations and chose a dish to prepare – an entrée, dessert or a side dish. Seasonal favorites have included Apple, Fennel and Pomegranate Salad with a Citrus Vinaigrette, Porcini Crusted Beef Tenderloin with a Wild Mushroom Sauce and Chocolate Salami for dessert!
A head chef was selected to manage each team, and team members chose to either help prepare the recipe or to help produce a 60-second infomercial showcasing their assigned dish. Each team was then given 50 minutes to complete their challenge, and judges scored based on taste, presentation and infomercial quality.
After the winning team was crowned, all guests enjoyed the delicious California cuisine from each station, all while building a sense of team unity and taking in the breathtaking views overlooking La Jolla.
One guest wrote, "Our team had the best experience with Jodi and her team! Besides the great staff, amazing food and fun, interactive activities that Jodi introduced to our team, we also had an amazing view from the top of Mt. Soledad. Can't thank Jodi and her team enough for making our 2017 Company Holiday party one to remember!"
Although 2017 is quickly coming to a close, Lajollacooks4u is looking forward to a number of exciting events and engagements that have already been scheduled for the New Year.
About Lajollacooks4u:
Lajollacooks4u is San Diego's premiere team-building and cooking events company. Founded in 2008, it has hosted companies from all over the globe, providing guests with a collaborative and one-of-a-kind culinary experience. With skilled facilitators, farm-to-table cuisine and a stunning view overlooking La Jolla, Lajollacooks4u has consistently been ranked one of the area's top attractions by Trip Advisor, having been awarded its Certificate of Excellence three years in a row.
For more information about the company's hands-on team building events and gourmet cooking classes, please visit http://www.lajollacooks4u.com.