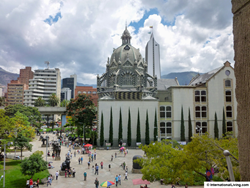 I like the sense of freedom I feel here
BALTIMORE (PRWEB) December 07, 2017
A new report from the editors of International Living explores how safe expats feel as retirees abroad (very safe, as it happens) and looks at the disconnect between outsiders' perception of some popular retirement destinations and the often very different reality on the ground today.
"Safety is our number-one consideration when we're evaluating the merits of a place where expats might consider retiring," says Jennifer Stevens, International Living's Executive Editor. "If we don't deem a destination safe, we don't recommend our readers go there. End of story."
"What we've discovered is that in the places we do recommend—like Nicaragua, Colombia, or Malaysia, for instance—expats living there often say they feel safer than they did back home.
"Even so, folks on the outside who've never been to these places themselves often carry around outdated or simply ill-informed misperceptions about them, believing them to be less safe than they really are.
"No place is 100% free from crime, of course. But there's a lot less violent crime in the places we recommend than there is in the United States. And just as there are parts of your home town you might not venture into after dark, that's true of any place.
"Disqualifying an entire country as an attractive place to live because of some newsworthy event in one small corner of it is like saying you'd never live anywhere in the United States because of the crime rate on the South Side of Chicago."
Expats living in International Living's top retirement havens report that they feel very safe in their adopted homes.
"After 10 years of living here in Nicaragua permanently, I can say unequivocally, that Nicaragua is a much safer place to live than the U.S. And that gives me peace," says Bonnie Hayman, IL Nicaragua Correspondent.
"I moved here without knowing a soul. Friends and family told me it was dangerous. I went anyway. Now I feel much safer in this beautiful country than I do when I visit my daughters in California or Washington, D.C."
Nicaragua is a beautiful country that boasts a dramatic Pacific coastline, long Caribbean beaches, volcanoes and fresh water lakes that dot the hilly inland. It is also a nation at peace and statistically one of the safest countries in Central America.
"I see little kids walking down the country road in Nicaragua, going to the store for their parents—a five-year-old holding his little two-year old sister's hand," says Bonnie. "And gun laws are stricter in Nicaragua, so very few people own them."
Expat Natalie Sullivan, also based in Nicaragua, feels similarly. She has lived in the hillside, beach retreat of San Juan del Sur for the past 13 years. With its golden sand and horseshoe bay, it is a postcard-perfect town, attracting tourists, beach-loving expats, and surf enthusiasts alike.
Natalie says her favorite thing about living in Nicaragua is how safe it is. "The bay, the friendly people, and the healthy food in Nicaragua attracted me here," says Natalie. "But I love that I can actually hitchhike and not have to worry about it. I like the sense of freedom I feel here."
Poor reputations can also linger long after the reality on the ground has changed. Medellín, Colombia, for instance, remains saddled by the reputation it earned in the 1990's as a drug-cartel stronghold. But in the 30 years since then, crime has plummeted and Medellin is thriving today—and safe.
"My wife Christie and I had heard some scary stories about Medellín and even watched both series of Narcos on Netflix, leading us to pretty much write off the city as a place to visit, let alone live," says expat Dave Cole.
"But a well-traveled friend of ours said he'd heard some good things and maybe we should have another think. We set about doing our research and it soon confirmed that we'd been hasty in our dismissal, so we decided it was worth taking a trip and finding out for ourselves what it was really like...we love it!"
In the Crime Index 2017 Mid-Year report, there are 25 U.S. cities considered more dangerous than Medellín. Twenty-first century Medellín is a thriving metropolis, attracting growing numbers of expats like IL's Colombia Correspondent, Nancy Kiernan.
"I feel safer here in Medellín than in many large cities in the U.S. You don´t see the mass shootings you do in the States," says Nancy. "My husband Mike and I have been living here since 2012, and not once have we felt in danger. Both the local people and the expat community have been very welcoming."
This isn't to say that you should throw caution to the wind when you move abroad.
"We still take the same basic safety precautions that we would in any large city anywhere in the world." says Nancy. "There is crime of course, the city has 3 million people. Like any big city anywhere in the world, there are places you go and places you stay away from (especially at night). Once you learn these, and practice situational awareness—just as you would if you were in New York—you can live and move around the city without fear."
Penang, a small tropical island off the west coast of peninsular Malaysia, is a multicultural hub. Its great diversity is one reason expats say they feel welcomed and at ease there.
"I feel so safe living in Penang, I've never even felt uncomfortable or scared," says Kirsten Raccuia, IL Southeast Asia Correspondent. "Being from Chicago, I'm so used to looking over my shoulder—but here there is just no need."
Expats Ed and Sally Wilkerson shared similar sentiments. Since moving to the island of Penang, from Portland, Oregon, the Wilkersons have enjoyed a lavish lifestyle on a very modest budget. They live in a 1,300-square-foot apartment with sea and harbor views, and a balcony that can easily hold 30 people and with lots of low-cost Asian airlines, it has allowed the couple to indulge their love of travel.
As to whether they'll ever return to the States, Sally says, "Penang, and George Town in particular, is a safe place for a single woman, and I've never felt threatened day or night. If anything ever happened to Ed, I'd stay here. I have a lot of friends here and it really feels like home."
Editor's Note: Members of the media have permission to republish the article linked above once credit is given to InternationalLiving.com.
Further information, as well as interviews with expert authors for radio, TV or print, is available on request. Photos are also available.
For information about InternationalLiving.com content republishing, source material or to book an interview with one of our experts, contact PR Managing Editor, Marita Kelly, +001 667 312 3532, mkelly(at)internationalliving(dot)com
Twitter: @inliving
Facebook: https://www.facebook.com/International.Living/
About International Living
For 37 years, InternationalLiving.com has been the leading authority for anyone looking for global retirement or relocation opportunities. Through its monthly magazine and related e-letters, extensive website, podcasts, online bookstore, and events held around the world, InternationalLiving.com provides information and services to help its readers live better, travel farther, have more fun, save more money, and find better business opportunities when they expand their world beyond their own shores. InternationalLiving.com has more than 200 correspondents traveling the globe, investigating the best opportunities for travel, retirement, real estate, and investment.