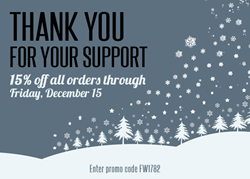 South Windsor, Conn. (PRWEB) December 11, 2017
FarmTek announced a special year-end flash sale today. After another successful year, FarmTek wants to show appreciation to their loyal customers.
As a special thank you for the continued support, FarmTek will be offering 15% off all online orders from Monday, December 11th to Friday, December 15th. Enter promo code FW1782 at checkout to get access to the deal and enjoy maximum savings of $1,500.
For more information, visit FarmTek.com.