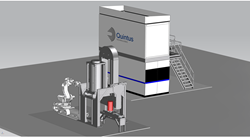 Quintus, being the global leader in HIP equipment system manufacturing, is our ideal partner for this very demanding project.--Gerry Triani, Technical Director of ANSTO Synroc
SYDNEY, and VÄSTERÅS, Sweden (PRWEB) December 11, 2017
The Australian Nuclear Science and Technology Organization (ANSTO) is acquiring a Hot Isostatic Press(HIP) from Quintus Technologies as part of the line-up of high-tech equipment for its soon-to-be-built SyMo waste treatment facility at its Lucas Heights campus outside Sydney, New South Wales.
The Synroc waste treatment plant (SyMo) has been initiated by ANSTO to treat liquid waste from radiopharmaceutical production. The model QIH 80 Quintus HIP will play a critical role in the SynMo plant, integrating with ANSTO's new technology to reduce the volume of nuclear waste.
The press on order will be modified to operate under the harsh conditions, i.e. radiation, that exist in the HIP containment chamber. It features a work zone of 19.685 inches (500 mm) in diameter and 39.37 inches (1000 mm) in height; an operating temperature of 2102° F (1150° C); and pressure of 100 MPa (14,503 psi). Supporting advanced process development and production at the SyMo treatment facility, the HIP will be equipped with Quintus' patented Uniform Rapid Cooling (URC™) technology for safety and reliability.
"We are happy to have selected Quintus Technologies for this very demanding project," says Gerry Triani, Technical Director of ANSTO Synroc. "We feel that Quintus, being the global leader in HIP equipment system manufacturing, is our ideal partner."
Due to the challenges associated with working in an irradiation environment, the HIP has the capability to be remotely controlled through an industrial robot by operators outside the HIP containment chamber. Several additional safety systems will be incorporated to manage any situation that can occur during operation.
"Quintus Technologies has for several years worked with the nuclear industry in the development of waste handling in the U.S. and Europe. We are honored to have been selected by ANSTO to deliver this specialized HIP system. It proves our commitment to deliver reliable HIP systems to this highly demanding industry sector," comments Jan Söderström, CEO of Quintus Technologies.
About Quintus Technologies
Quintus Technologies specializes in the design, manufacture, installation, and support of high pressure systems for sheet metal forming and densification of advanced materials and critical industrial components. Headquartered in Västerås, Sweden, and represented in 35 countries worldwide, the company is the world leader in high pressure technology and has delivered more than 1,800 systems to customers across the globe within industries such as aerospace, automotive, energy, and medical implants. Read more about Quintus Technologies: http://www.quintustechnologies.com
About ANSTO
ANSTO is Australia's national nuclear science and technology organization and the center of Australian nuclear expertise. It is responsible for undertaking research and development and delivering specialized advice, scientific services, and products to government, industry, academia, and other research organizations. As custodian of Australia's landmark infrastructure, ANSTO is using nuclear science to benefit industry, people, and the environment. Read more about ANSTO here: http://www.ansto.gov.au