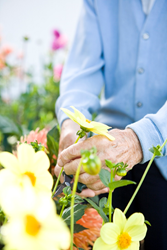 DES MOINES, Wash. (PRWEB) December 09, 2017
Wesley Homes proudly announces approval of its accreditation status by Accreditation Commission for Health Care (ACHC) and approval by Centers for Medicare & Medicaid Services (CMS) for the services of hospice care.
"Hospice is an important component of care that's been on the strategic plan of our Board of Trustees for a long time," said Wesley Homes Community Health Services Executive Director Melinda Moore. "We are honored that ACHC and CMS certified our ability to demonstrate our commitment to delivering the highest quality services in patient experience, of life, of every moment."
Achieving accreditation is a process where healthcare organizations demonstrate not only compliance with state and national standards but also meet rigorous standards of quality care. Accreditation by ACHC reflects Wesley's dedication and commitment to deliver a higher level of performance and patient care, designed to enhance the experience of patients, their loved ones and staff.
"In order to receive accreditation, Wesley Hospice met 550 individual standards and demonstrated we can sustain those best practices," said Moore. "As hospice caregivers, we are entering a patient's home at a critical period of life. It's important that, as we honor every moment of your life, your experience is one of excellence."
Wesley Homes Hospice will provide services at both the Wesley Homes Des Moines Health Center and Wesley Homes Lea Hill Rehabilitation & Care Center as well as in Greater King County.
"It's been gratifying to see the energy of our hospice team to get to this point, and we know there's more to come," said Moore.
The next steps for the Wesley Homes Hospice team include creating bereavement groups, building the staff and resident volunteer program, creating a guide for families about the end-of-life conversation and beginning campus-wide education about hospice services.
"Bringing emotional and spiritual support, providing pain and symptom management, personalizing caregivers to meet your needs—those are the things we're all entitled to for a smoother transition to end of life," said Moore. "That's the experience Wesley Homes Hospice provides."
ACHC is a not-for-profit accreditation organization that has developed the highest national standards that providers are measured against in order to illustrate their ability to effectively and efficiently deliver quality healthcare products and services to consumers. ACHC is ISO 9001:2008 certified and has CMS Deeming Authority for Home Health, Hospice and DMEPOS.
Established in 1944 and affiliated with the Pacific Northwest Conference of the United Methodist Church, Wesley Homes operates three retirement communities and a home health agency: Wesley Homes Des Moines; Wesley Homes Lea Hill; Wesley Homes Bradley Park; and Wesley Homes Community Health Services, which includes Medicare/Medicaid-certified Home Health and Home Care and now Medicare-certified Hospice.