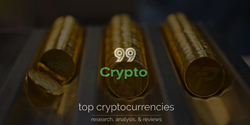 There is no shortage of cryptocurrency news in this emerging segment.
San Francisco, CA (PRWEB) December 09, 2017
99 Crypto has reported on the industry as the cryptocurrency markets have been growing at an unprecedented pace in the past months. Last month alone, Bitcoin saw an increase in value of about 50%. In December, growth has far exceeded even that, now totaling as much as 162.55% since the beginning of November. Despite these leaps and bounds, the online crypto news and blockchain journal – 99 Crypto – has put out its list of their top cryptocurrencies, and it does not include the likes of Bitcoin.
99 Crypto has reported on everything from the History of the Mt. Gox hack to various traditional institutions getting involved with blockchain around the world. All the while, they have also been focused on helping to shed light on new or alternative tokens or coins, also known as Altcoin. Their list of the Best Cryptocurrencies excludes many of the 'name brand' cryptos because they, like many others, are concerned that some cryptocurrencies might be over-inflated.
Highlighted on this list, Mysterium seeks to create VPN connections to disguise users' IP addresses by accessing Ethereum's network of connected devices.
"There's no shortage of cryptocurrency news in this emerging segment," says a representative from 99 Crypto. "We see things like Mysterium as a sound use for blockchain technology to solve a real-world, scalable problem."
The site's top cryptocurrency list includes coins focused on everything from financial transactions to legal contracting to secure creative content distribution. Learn more at https://www.99crypto.com/top-cryptocurrencies/