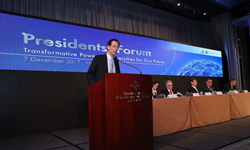 (PRWEB) December 08, 2017
With a topic "Transformative Power of Universities for Our Future", the Forum aims to provide an opportunity for higher education leaders from various countries in the world to exchange views and inspire each other on how universities can transform the world in view of the current and future global challenges. They also discussed the driving forces for the future of the universities, and how the universities can respond proactively for the public good.
PolyU President Professor Timothy W. Tong said, "This Presidents' Forum has provided an important platform for leaders of education around the world to share thoughts and experiences on how to shape up a sustainable future through transformative education model and programmes, as well as developing and transferring knowledge that induces change and progress in society."
Three discussion panels, involving 12 Presidents and 12 senior representatives, were arranged. The speakers shed light on how universities can look to the future and transform society through re-examining their role from a macro perspective, innovating education and research, as well as undertaking impactful knowledge transfer.
The speakers were from all over the world, including Africa, Americas, Asia, Australasia and Europe, of which some are along the Belt and Road regions. Below is the list of the session chairs and speakers (in alphabetical order of the country/region):

Professor Ian O'Connor, Vice-Chancellor and President, Griffith University, Australia
Mr Laurie Pearcey, Pro Vice-Chancellor (International), The University of New South Wales, Australia
Professor Vahan Agopyan, Vice-President, University of São Paulo, Brazil
Datin Dr Anita B Z Abdul Aziz, Vice-Chancellor and President, Universiti Brunei Darussalam, Brunei
Professor Deborah Buszard, Deputy Vice-Chancellor and Principal, The University of British Columbia, Canada
Professor Zhou Yu, President, Harbin Institute of Technology, China
Professor Xie Heping, President, Sichuan University, China
Professor Zhong Zhihua, President, Tongji University, China
Mr Jacques Biot, President, École Polytechnique, France
Professor Eric Maurincomme, President, INSA Lyon, France
Professor Timothy W. Tong, President, The Hong Kong Polytechnic University, Hong Kong
Professor Philip C.H. Chan, Deputy President and Provost, The Hong Kong Polytechnic University, Hong Kong
Professor Donatella Sciuto, Vice-Rector, Politecnico di Milano, Italy
Professor Masao Kitano, Executive Vice-President for Education, Information Infrastructure, and Evaluation, Kyoto University, Japan
Professor Mukhambetkali Burkitbayev, First Vice Rector, Al-Farabi Kazakh National University, Kazakhstan
Dr Loretta O'Donnell, Vice Provost for Academic Affairs, Nazarbayev University, Kazakhstan
Professor Cheryl de la Rey, Vice-Chancellor and Principal, University of Pretoria, South Africa
Professor Kihyeon Kim, Vice President for Academic Affairs, Seoul National University, South Korea
Professor Jaiyong Lee, Provost, Yonsei University, South Korea
Professor Huey-Jen Jenny Su, President, National Cheng Kung University, Taiwan
Professor James Thompson, Vice-President for Social Responsibility, The University of Manchester, United Kingdom
Professor Stuart Croft, Vice-Chancellor and President, The University of Warwick, United Kingdom
Professor David Ibbetson, President of Clare Hall, University of Cambridge, United Kingdom
Dr Leslie E. Wong, President, San Francisco State University, United States
-End-
Press contact: Michelle Li
Senior Manager, Communications and Public Affairs
Telephone: (852) 3400 2128
E-mail: michelle.sp.li(at)polyu.edu.hk