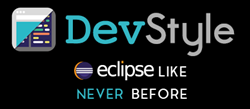 "No more headaches when beginning your coding journey!" said Aaron Lara, lead DevStyle Themes developer.
DALLAS (PRWEB) December 12, 2017
Genuitec, a leader in the Eclipse open source community, announces that DevStyle for Eclipse is going prime time! DevStyle is now generally available as a stand-alone enhancement for Eclipse, and is also bundled with MyEclipse, Webclipse and Angular IDE. You can now enjoy amazing themes, including custom light or dark themes, along with other exciting DevStyle enhancements, no matter how you prefer to access them.
More than 50,000 users have received the update in the first 24 hours making the reboot of Eclipse's user experience well under way! Building upon Darkest Dark, the #1 Eclipse marketplace plugin Genuitec originally created, DevStyle goes well beyond theming by providing key usability improvements that ensure Eclipse stays competitive in the evolving developer tools landscape. Advanced coding improvements like inline search, breadcrumb navigation, advanced workbench management, and several more, move Eclipse beyond its original paradigm to compete with the likes of Visual Studio Code and other modern environments.
"No more headaches when beginning your coding journey!" said Aaron Lara, lead DevStyle Themes developer. "Whether you are beginning a new project or going back to a previous one, it's all made easy from the start." The new startup experience allows the coder to get to work quickly and efficiently: it is now possible to either start a new project, go back to an old one, or easily open any of your multiple workspaces, all from the same interface. Exploring your project is now much easier with the breadcrumb toolbar, and the inline search provides a non-intrusive, sleek search and replace experience that won't break a developer's flow.
In addition to DevStyle, the 2017 CI 9 releases of MyEclipse, Webclipse and Angular IDE also include support for Angular 5 and TypeScript 2.5. MyEclipse, Genuitec's full-stack offering, now includes new server connectors for TomEE 7 and Glassfish 5. "The work on this release represented a very long journey, but it was well worth it, considering how many improvements have been made," said Wojciech Galanciak, the Genuitec IDEs lead.
Learn more about DevStyle: https://www.genuitec.com/products/devstyle/.
About Genuitec:
Founded in 1997, and counting over 17,000 companies in 191 countries as customers, Genuitec creates tools that enable developers to build brilliant software. Genuitec offers a rich product portfolio to meet a variety of needs. Integrated development environments are perfect for a comprehensive solution: Angular IDE with superior Angular and TypeScript support for the modern web developer, and MyEclipse for the latest in front-end and back-end technologies for the Java EE enterprise. Genuitec's Eclipse plugins deliver the missing pieces: DevStyle for outstanding developer ergonomics, including the top-rated Darkest Dark theme, and Webclipse, providing these same enhancements along with tools specifically for modern web development. Rounding out the product lineup is Secure Delivery Center for simple, secure delivery of perfectly configured IDEs. All Genuitec software includes free trials and world-class support via staff and community supported forums.
Contact Genuitec today to learn more: https://www.genuitec.com/company/contact
Follow on Twitter: @Genuitec @MyEclipseIDE @Webclipse
Follow on LinkedIn: https://www.linkedin.com/company/91479/admin/updates/
Like on Facebook: https://www.facebook.com/Genuitec
Find on Google + : https://plus.google.com/+GenuitecHome