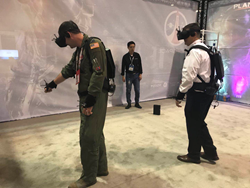 Very impressive! The realism is great, the position tracking was awesome and gave me this real sense of presence that I was actually on the moon. It felt as if I was really in a space suit and I was really there.
ORLANDO, Fla. (PRWEB) December 11, 2017
Service men and women from the Army, Navy and Air Force, as well as members of the NASA community and STEM students from throughout the state of Florida, had the opportunity to to experience Noitom's Alice Space during the Interservice/ Industry Training, Simulation and Education Conference (I/ITSEC), held at the Orange County Convention Center in Orlando from November 27 through December 1st.
Since launching Project Alice—Noitom's proprietary multi-user, virtual reality solution utilizing a hybrid inertial motion capture and optical tracking system— in 2016, Noitom has continued to expand into the realm of simulation with virtual and mixed reality experiences.
At this year's I/ITSEC conference, Noitom introduced Alice Space for the first time in the United States. Alice Space is a turnkey, hardware and content package that allows venues like museums and science centers to offer their audiences realistic and immersive experiences in a simulated outer space setting.
At the show, attendees waited for the chance to virtually explore the interior of a lunar craft and to walk on the moon's surface inside Noitom's Alice Space booth. Two at a time, players were strapped into HP's Z VR Backpack PC's, given HMD's and fitted with hybrid inertial/optical tracking for their hands. The demo experience began inside a lunar landing craft where both players could see and interact with each other. They are then able to move around the craft, to interact with controls, and eventually, to step out of the craft and onto the moon's surface where they can look down to see their footprints and explore the area around the craft. They can also look up at Earth and the stars, and—in what was one of the most popular parts of the demo— interact with a tablet that when looked through, gave details about what they were seeing throughout the landscape.
Built with the same technology of Noitom's Project Alice, Alice Space is delivered with all the hardware needed for bringing the space exploration experience to amusement parks, science museums and schools. Alice Space comes with all of the equipment needed to host a virtual experience including computer backpacks and VR HMDs for six people. Along with the hybrid inertial motion capture and optical tracking system, the platform allows for real-time interaction with objects and can run with up to six players at a time.
"Very impressive!," says Brian Swalwell, Vice President of Software for Odyssey Armament Training System and attendee of I/ITSEC. "The realism is great, the position tracking was awesome and gave me this real sense of presence that I was actually on the moon. It felt as if I was really in a space suit and I was really there."
Although it was Alice Space on display and demoing during the show, Project Alice—the hybrid inertial and optical tracking VR platform by Noitom that Alice Space is built upon —also garnered much interest from I/ITSEC attendees. Visitors were able to see how the turnkey platform could be accommodated to create curated simulations for military training.
The one major difference between Project Alice and Alice Space is that Project Alice is delivered as a "blank slate" that can be used to house a custom experience, whereas Alice Space comes with its own, evolving content as part of the Earthlight series, beginning with Lunar Mission.
At I/ITSEC, Noitom featured a demo version of Earthlight: Lunar Mission—billed as humanity's first step on the journey to explore and settle other worlds. It is the first of a planned six custom interactive mixed reality experiences with Alice Space being released through 2020 that will take players from the Earth's Moon to Jupiter's icy Europa. Created by Australia-based Opaque Space in collaboration with NASA, Earthlight: Lunar Mission features realistic depictions of scenes in outer space.
Opaque Space has won multiple industry awards for their VR consumer developing and have broken out as a prominent emerging technology provider focused on aerospace and extreme environment depiction in VR/AR platforms. During I/ITSEC, Opaque Space was was awarded People's Choice Award during the conference's Serious Games Showcase.
Alice Space is available for order with the first installations slated for January 2018. The turnkey Alice Space package for six players lists for USD $199,000. In addition, a monthly subscription and maintenance fee of USD $6,000 will include new content every six months and limited equipment protection. Interested parties are invited to contact Noitom for detailed specifications.
Noitom International works with a team of dedicated engineers who develop world-class motion capture technology for consumer and industrial markets through the integration of MEMS sensors, pattern recognition, human kinetics and wireless transmission. Noitom International is based in Miami, Florida, USA. For further information about Noitom and its services, please visit, http://www.noitom.com. For general inquiries, please email, info(at)noitom(dot)com