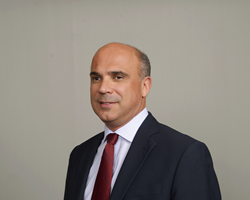 The Offshore Technology Conference in an ideal forum for learning and idea sharing with the most influential individuals in the energy community and I am looking forward to attending the event.
HOUSTON (PRWEB) December 12, 2017
Daniel Viassolo, Team Lead and Principal Data Scientist at Schlumberger, has accepted an invitation to present at Offshore Technology Conference (OTC) 2018 taking place April 30 – May 3, 2018 in Houston, Texas.
Founded in 1969, the Offshore Technology Conference (OTC) is the largest global event for the oil and gas sector featuring approximately 2,000 exhibitors and attendees from across the globe meeting to exchange ideas and opinions to advance scientific and technical knowledge for offshore resources and environmental matters.
"The Offshore Technology Conference in an ideal forum for learning and idea sharing with the most influential individuals in the energy community," says Viassolo, "I am looking forward to attending the event and presenting some timely applications of the latest technologies in machine learning and artificial intelligence to oil and gas challenges."
Daniel Viassolo's presentation is titled "Machine Learning and IoT for ESP Failure Prediction" based on a paper that will be published in January 2018 with co-authors from Schlumberger.
The presentation will discuss the development of a failure prediction algorithm for electric submersible pumps (ESPs). An ESP is an electro-mechanical system deployed in oil wells with low reservoir pressure to assist the flow of oil to surface. The operation of ESPs in downhole oil wells exposes the system to adverse loading conditions including high temperature, vibration, sand and gas ingestion. Over time, these conditions degrade the components and can result in a system failure.
Once the failure prediction algorithm models are deployed, they are integrated into the ESP surveillance workflow where alarms can be raised and corrective actions taken. The presentation will conclude with lessons learned from developing and deploying predictive analytics models for ESPs covering technical challenges, business process considerations, networking/communication requirements, and data security constraints.
About Daniel Viassolo
Daniel Viassolo moved to the United States from Argentina in 1994 to pursue his graduate education at Purdue University, where he was sponsored by an international scholarship first, and later by a Graduate Research Assistantship. Daniel obtained his PhD in Aerospace Engineering from Purdue in 2000.
After working for several different technology companies, Daniel Viassolo is now the global Team Lead for Equipment Analytics with Schlumberger.
Over the last 18 years, Daniel Viassolo has made impactful contributions to the field of Industrial Asset Health Management and Controls, covering diverse applications domains – oil and gas, renewables, jet engines – and co-authoring 19 US patents, 30+ publications, and one book.
Most recently, Viassolo has filed three patent applications to address tool pump-down applications: ASSESSMENT OF PUMP-OFF RISK (No. 20170314353 - filed Nov 2017), MODEL-BASED PUMP-DOWN OF WIRELINE TOOLS (No. 20170241221 - filed Aug 2017) and CABLE SYSTEM CONTROL USING FLUID FLOW FOR APPLYING LOCOMOTIVE FORCE (No. 20160076325 - filed Mar 2016).
To connect with Daniel Viassolo, visit LinkedIn or Facebook or Twitter online.
For more information about the Offshore Technology Conference, visit: http://2018.otcnet.org/about