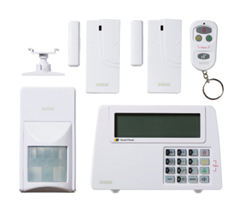 "The holidays are a busy time for criminals," said SABRE CEO David Nance. "Yet, studies have shown burglars are 60% less likely to try something if they see an alarm system on the premises."
CHICAGO (PRWEB) December 13, 2017
Stop thieves from making off with holiday packages or taking advantage of an empty house with SABRE's affordable Wireless Home Security System or Standalone Home Alarms.
 
"The holidays are a busy time for criminals," said SABRE CEO David Nance. "Yet, studies have shown burglars are 60% less likely to try something if they see an alarm system on the premises."
 
As a leader in the self-defense marketplace for over 40 years, SABRE is dedicated to keeping its customers safe during high danger times such as the holidays with quality systems to fit every need.
 
Small Budget Big Rewards:
Fake Outdoor Security Camera – This realistic faux camera will catch the attention of intruders for a fraction of the cost of a real camera.

Can be used indoors and outdoors
Comes with a flashing red LED light
Adjustable for more placement options
No wiring needed
Comes with a security alert warning decal
 
Peace of Mind in a Small Package:
Wireless Alarm Kit – This DIY home security kit can be installed on any windows or doors in the home, at the office, or even in dorm rooms.

120 dB alarm alerts an area up to 750 feet away
Adjustable settings include off, alarm, and chime
Sleek white design blends with most decor styles
No wiring needed
Keypad door alarm prevents accidental activation
 
Full Coverage:
Wireless Home Alarm System – This eight piece set covers all the bases with a motion sensor, door and window sensors, key fob remote control, and smart panel.

120 dB alarm alerts an area up to 750 feet away
Add an unlimited amount of sensors
Wireless design is easy to set up
No monthly monitoring fees
No professional installation required
 
"Make sure whatever option you choose is in plain sight and is loud enough for the neighbors to hear," said Nance. "And don't forget to stop your mail, take in your trash cans, and even set up a light on a timer to make the place look more lived in."
 
To learn more about SABRE's Wireless Home Security Systems and Standalone Alarms, visit http://www.sabrered.com.
 
About
SABRE, the no. 1 pepper spray trusted by police and consumers worldwide, is family owned and operated with four decades of experience and is the leading brand in personal safety. The company's law enforcement grade pepper sprays provide consumers with the same superior quality chosen exclusively by the New York Police Department, Los Angeles County Sheriff's Department and law enforcement agencies worldwide. SABRE has trained 3,500 officers around the globe on the use of force and how to use pepper spray. SABRE also has a line of consumer personal alarms and home security systems, and is dedicated to educating its customers. SABRE's Personal Safety Academy is available through certified instructors around the world to help teach personal safety skills to SABRE users. Learn more at http://www.SABREred.com, on Facebook at 'SABRE-Security Equipment Corporation', on Twitter @SABRERed or on Instagram @SABRESafety.